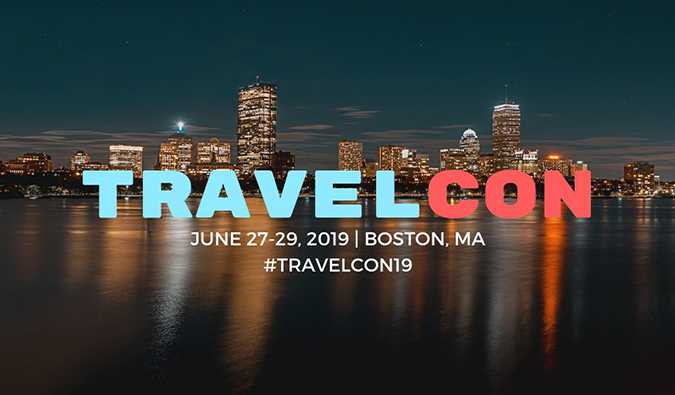 Posted: 3/5/2019 | March 5th, 2019
With less than four months to go, I wanted to give you another update on our upcoming travel industry conference, TravelCon.
With that in mind, let me tell you about some recent updates:
First, we finalized our speaker list (I mean I may add a few more in but this is as the final big announcement). With over 60 speakers, this event is going to be amazing and we're going to cover a lot of incredible topics: SEO, monetization, video production, webinars, Instagram, photo editing, writing, livestreaming, FB ads, photography, marketing, self-publishing, time management, and so much more! I mean we have three FULL days of events, talks, panels, and networking!
Since we last spoke, we added the following speakers:
Bani Amor
Decolonizing Travel Culture
Brian Baldrati
Is This Real
Kash Bhattacharya
Budget Traveller
Travis Burke
Travis Burke Photography
Brian Clark
Copyblogger
Joey Coleman
Author, Never Lose a
Customer Again
Tiffany Funk
One Mile at a Time
Pete & Dalene Heck
Hecktic Travels
Dani Heinrich
Globetrotter Girls
Joseph Hernandez
Thrillist
Raimee Iacofano
Nomadic Matt
Benny Lewis
Fluent in 3 Months
Michael Lisovetsky
JUICE
Kaitlin McMichael
Getty Images
Dan & Audrey
Uncornered Market
Kamila Napora
Kami and the Rest
of the World
Troy Osinoff
JUICE
Sherry Ott
Ottsworld
Jadah Sellner
JadahSellner.com
Sher Jordan
Sher She Goes
Mary Ann Thomas
Travel Writer
Erica Virvo
Nomadic Matt
Nicole Wears
Traveling Canucks
We only have 200 tickets left! We're going to sell out this year so be sure to get your ticket soon. (Once we hit our cap, we do not go over it. I like to keep the experience small and intimate. I'm not ready to turn this event in a multi-thousand person expo.)
Additionally, I want to announce our first round of sponsors! While we have a lot more in the works, here are the first batch of brands you're going to see at the event. They are going to be doing a lot of great things:
Aweber
AWeber is an easy-to-use email marketing and automation software used by some of the best writers, photographers and content creators around the world, including Ann Handley, Stephen Kamb, and more.
Bluehost
Bluehost is a leading web solutions services provider. They power millions of websites, making them one of the largest and most trusted web hosting services. They are also one of our recommended hosting providers for our course. One of the best value companies out there!
Constant Contact
Constant Contact's leading email and social media marketing tools personal coaching-help all types of small businesses and organizations create professional-looking email newsletters and social campaigns.
Intrepid Travel
Intrepid Travel is the world's largest adventure travel company, operating amazing small group experiences in over 120 countries. They specialize in environmental and sustainable tours and are the perferred tour parter of this website!
Mediavine
Mediavine offers full service ad management including display ad optimization, video monetization and sponsored influencer marketing. They're here to help content creators like yourself build sustainable businesses.
Québec
From lakes to forests and the majestic St. Lawrence River, Québec is a series of jaw-dropping scenery. With breathtaking land and cityscapes, it's the genuine people and historic culture that really bring Québec to life: year-round festivals, scenic road trips and local flavors are just a few of Québec's charms.
Singapore Airlines
Singapore Airlines is the flag carrier airline of Singapore. It is ranked as the world's best airline, since 2018 and is one of my personal favorite carriers. They offer world class service, comfort, food, amazing entertainment, and state of the art seats.
TripAdvisor
TripAdvisor is the world's largest travel site — helping travelers unleash the full potential of every trip with the latest reviews and the lowest hotel prices.
Unbound Merino
Unbound Merino offers the highest quality merino wool clothing. These clothes are light, tough, and long lasting. Pack light, save money & enjoy the comfort of our merino wool t-shirts, socks & underwear.
Visit Savannah
Savannah, Georgia is a charming Southern escape where art, period architecture, trendy boutiques and ghost stories are all set under a veil of Spanish moss. Savannah is a place where cuisine comes straight from the coast and cocktails are served at every meal.
Walks
Walks offers small group tours in cities around the world. Tours are offered throughout Italy, Paris, New York, and Turkey, where you'll get exclusive access to behind the scenes areas that no one else gets to see. They are also offering a $200 voucher to all attendees! Take Walks….for free!
***
Tickets are just $399 until the end of March. With this ticket, you'll have access to all keynotes, sessions, evening parties, networking events, recordings of all the sessions (so don't worry if you miss anything), any included meals, and the most fun you'll ever have at an event!
We only have 200 tickets left! We're going to sell out this year so be sure to get your ticket today. You can get a refund up to 60 days before the event so don't worry if you aren't 100% sure of your plans. You can secure your spot without worry today!
This event is going to teach you the practical skills you need to grow your audience and make a career in travel.
So come and attend TravelCon, learn from the best in the industry, and meet other wonderful travel professionals.
See you in Boston!
– Matt
P.S. – If you're looking to sponsor this year's event, check out our sponsor page for more information.
The post TravelCon 2019 Update: Final Speakers, First Sponsors appeared first on Nomadic Matt's Travel Site.