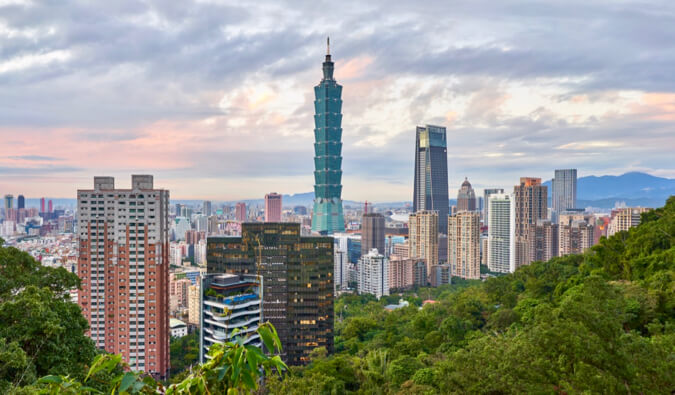 Posted:
Taiwan is one of the most popular destinations for English teachers: it has a high standard of living but is affordable, is home to friendly locals, boasts a world-class food scene, and has a lot of places to explore on your day off (the high-speed trains can get you around the island pretty quickly).
To top it all off, Taiwan is aiming to be bilingual by 2035. That means there is an increased demand for English teachers throughout the country (especially in rural areas). It has stricter standards than some of its neighbors, but it's still relatively easy to get a well-paid job there.
To teach English in Taiwan, applicants must be a native English speaker and from an English-speaking country (the US, Canada, the UK, Ireland, Australia, South Africa, or New Zealand) and have a bachelor's degree (though sometimes a master's is required).
Most schools also require applicants to have at least a 120-hour TEFL certificate and be a licensed teacher in their home country. (If you aren't a licensed teacher, you can still find work, but it won't be as high-paying.) You must also have a clean criminal record.
Here's a breakdown of various teaching opportunities in Taiwan and what to expect for each of them:

Buxiban ("cram schools")
Buxiban are after-school programs that rigorously prepare students for university. They are essentially test-prep schools.
To teach at a buxiban, you don't need a university degree. However, expect to have a lot of students (as many as 200 in a class in some schools). Most teachers work 15-20 hours a week, but with so many students it can be exhausting.
You're only paid when you actually teach a class, so anything like grading papers or preparing lessons (and these schools require a considerable amount of prep) is almost always unpaid. Schedules vary greatly too, since classes can happen at all hours of the day.
Teachers at buxiban can expect to earn around 600 NT$ ($20 USD) per hour.
However, if you're looking to get your foot in the door and don't have a lot of previous teaching experience, these schools are a good place to start. But before you accept a position with a buxiban, research the company running it to ensure that they are reputable and treat their teachers well. Many are really terrible places.
And while jobs are plentiful, don't expect great working conditions or benefits. It's an easy, flexible, and decently paid job for those with little experience. But it's not going to glamorous.

Public Schools
Jobs in public schools are typically available at the high school level. Classes are large, and teachers should expect to work around 15 hours a week, but they still must be at school from 8:30 a.m. until 5 p.m during the week. Some schools may compensate you for work done outside the classroom (preparation and grading), but most don't. Be sure to check before you sign a contract!
Public school teachers receive a lot of perks, though: a housing stipend, free return flights, paid vacation, a grant to cover supplies, and health and dental coverage.
You'll earn between 62,000 and 90,000 NT$ ($2,075–3,015 USD) a month, depending on where you are teaching and the terms of your end-of-year bonuses. (These schools offer bonuses, so teachers stay for their entire contract.)
If you want a job placement, check out the Taiwan government's Foreign English Teachers (FET) program.

Private Schools
Private schools offer higher salaries and smaller class sizes compared to public schools. There's usually more competition for their teaching positions, as they offer better benefits, such as paid vacations and a housing stipend (in addition to the benefits you see in public schools too). If you're teaching in a private school, expect to work anywhere from 16 to 25 hours per week.
Private schools pay 50,000–60,000 NT$ ($1,675–$2,000 USD) a month. Teachers also receive a housing stipend, as well as paid vacation and holidays.

International Schools
The most coveted jobs are in international schools. These schools usually teach a UK or American school curriculum. They require experience and teaching degrees. They are like teaching in a real school, and you'll be expected to fulfill your contract.
International schools cover flights home and reimburse the cost of the vaccines needed for your visa and your visa fee, plus give you money for school supplies and do not charge tax on your income (which is a huge perk, as the tax rate is 18% for teachers in their first 183 days — it drops to 6–10% thereafter).
International school teachers make nearly 200,000 NT$ ($6,700 USD) a month.

Colleges and Universities
Teaching positions at colleges and universities are competitive and some of the hardest to come by. To teach in higher education, you need a master's degree (at the very least). Expect to work varied hours during the week and on weekends depending on your course load.
The starting salary is low — around 52,000 NT$ ($1,745 USD) a month — but you likely will get overtime pay for additional work (which can be as much as an additional 10,000 NT$ ($330 USD) per month). Additionally, salaries for teachers with a PhD will be higher than those for teachers with a master's degree.

Job Resources
In addition to the FET program mentioned earlier, there are numerous online resources you can use to find jobs teaching English in Taiwan:
Applying for a Visa
The visa process for Taiwan is relatively straightforward. If you're from the US, Canada, Australia, Ireland, the UK, or New Zealand, you can receive a 90-day visa on arrival; South Africans must apply for a 60-day visitor visa.
You don't need to have a job before arriving. In fact, upon arrival, do not disclose you are coming to work — you may be denied entry, as there is a snag in the law that requires you to have a work permit if you tell them you are coming to teach (even if you don't have the job yet).
Once you're employed, you need to get a health check and provide the results to your employer. After that, your school will assist you in changing your initial visa-on-arrival to a visitor visa and then help you apply for a work permit. Then, you need to get an alien resident certificate (ARC), which is validated by your employer.
Following getting your ARC, you will receive your health and dental insurance and can open a bank account. Expect the entire process to take around five to six weeks and cost 8,000–10,000 NT$ ($270–335 USD).
***
Teaching English in Taiwan can be a demanding position. However, there is a high demand for teachers, the visa process is straightforward, and you don't need to have a job before you arrive. And, since salaries more than cover living expenses in the country, it's a great place to both get your foot in the door as a teacher and make money while living abroad.

Ready to Teach Overseas? Get My Comprehensive Guide!
This digital guide will put you ahead of your competition, help you land a high-paying job with a reputable company, and give you firsthand knowledge from real teachers! The book also includes 12 bonus interviews about life as a teacher and job advice from one of the industry's top recruiters!
Click here to get started today!

Book Your Trip to Taiwan: Logistical Tips and Tricks
Book Your Flight
Find a cheap flight by using Skyscanner or Momondo. They are my two favorite search engines because they search websites and airlines around the globe, so you always know no stone is being left unturned.
Book Your Accommodation
You can book your hostel with Hostelworld. If you want to stay elsewhere, use Booking.com as it consistently returns the cheapest rates for guesthouses and hotels. I use them both all the time. My favorite places to stay in Taipei are:
Formosa 101 – This hostel is located right near the Taipei Tower and the Tonghua Night Market. It offers free breakfast and has a laid back lounge for relaxing.
Meander Taipei – The staff here are really helpful, and the beds are comfy. It has free breakfast as well as other daily activities.
Don't Forget Travel Insurance
Travel insurance will protect you against illness, injury, theft, and cancellations. It's comprehensive protection in case anything goes wrong. I never go on a trip without it, as I've had to use it many times in the past. I've been using World Nomads for ten years. My favorite companies that offer the best service and value are:
Looking for the best companies to save money with?
Check out my resource page for the best companies to use when you travel! I list all the ones I use — and I think they will help you too!
The post The Ultimate Guide to Teaching English in Taiwan appeared first on Nomadic Matt's Travel Site.