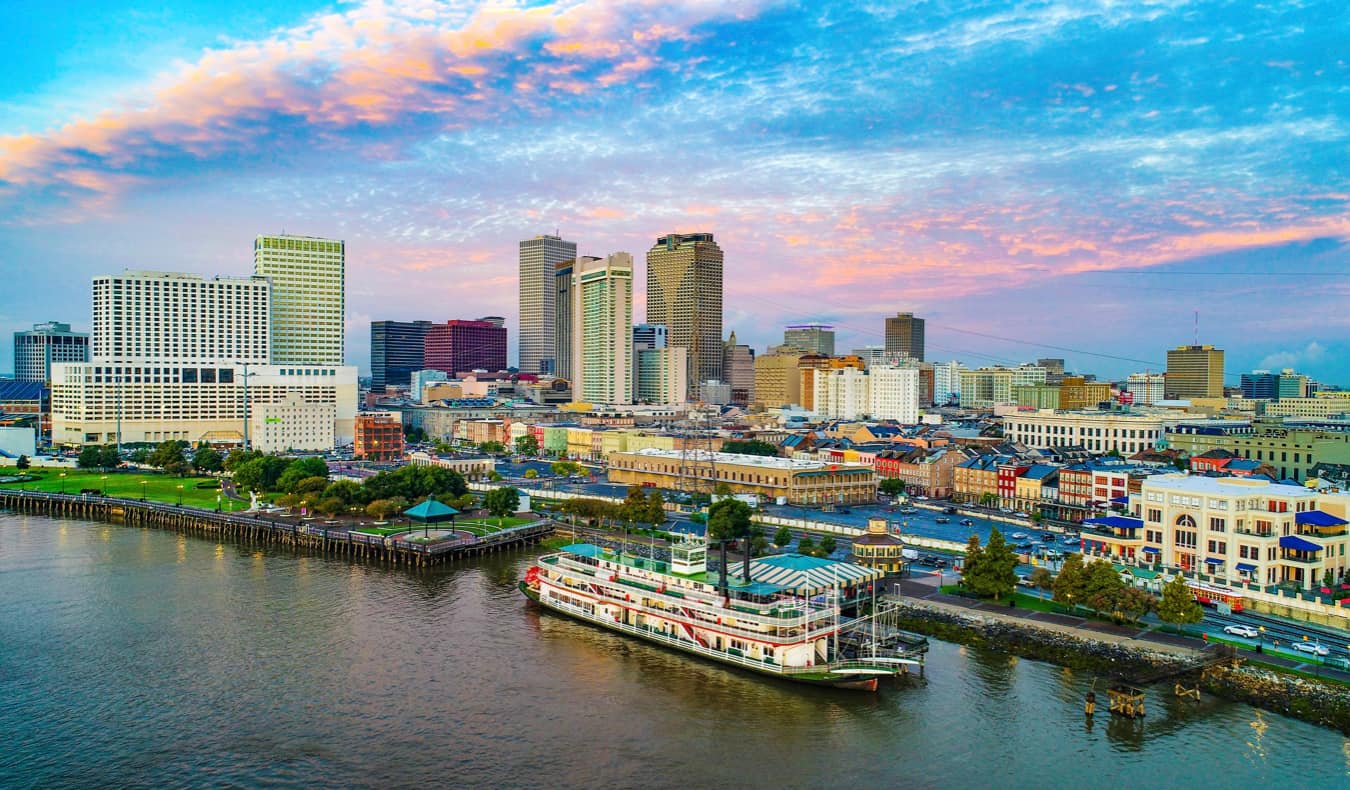 Posted: 10/21/21 | October 21st, 2021
New Orleans is dedicated to fun. Or, as they like to say here: laissez les bons temps rouler</em (let the good times roll)!
Founded in 1718 as part of a French colony, New Orleans has a long and complicated history. With the Louisiana Purchase in 1803, the city became part of the United States, growing to become the third largest city in the country by 1840.
Slavery was the driving force behind the economy during this time, as New Orleans had the nation's busiest slave market. Yet at the same time, the city was home to the largest and most prosperous community of free persons of color. Following the Civil War and the Emancipation Proclamation, the city's predominantly Black population fought for their rights, equality, and dignity, gaining some and yet continuing to struggle for others.
In 2005, Hurricane Katrina devastated the city, claiming over 1,500 lives and wreaking havoc on the city. Yet New Orleans always seems to bounce back, and over 15 years later, the city has rebuilt and is enjoying a period of revival.
Thanks to the city's complex history, there is a mash of cultures here: French, Anglo, Spanish, Haitian, and West African, among others. Most recently, Vietnamese immigrants are putting their own stamp on "the Big Easy."
Its colorful chronicles and unique mix of cultures are what make NOLA so amazing. There's a reason why the city's vibrant Mardi Gras festival is world-famous!
The best way to learn about and experience this unique city is to take a guided tour. You'll get a deeper understanding of the city's past and present, hear some amazing anecdotes about historical figures, and possibly walk away with a few super-local tips on where to eat, drink, and have fun.
There are a lot of options to choose from but here are my favorites:
1. Free Tours by Foot
The name doesn't lie: the tours are free (though you're expected to tip at the end), and you're doing it by foot. There are various two-hour offerings: the Garden District, the French Quarter, and Lafayette Cemetery (and other parts of town), as well as voodoo-themed tours. You can also do a free bike tour; it's BYOB (bring your own bike), though. If you're on a budget and just want a quick overview of the city, this is the tour for you!
-> Click here to book your Free Tour by Foot!

2. G L-f de Villiers
Glenn Louis de Villiers is a born-and-bred New Orleans denizen. He can even trace his family lineage directly back to its founders. He leads small groups on a walk through the French Quarter, regaling tour-takers with fascinating historical anecdotes as well as stories from his own life and family history. It's hard to get a better, deeper perspective than that of Mr. De Villiers. He also offers tours of other parts of town, plus LGBTQ-themed tours and food outings as well. Tours start at $30.
-> Click here to book a tour here with G L-f de Villiers!

3. Cradle of Jazz History Tours
Jazz and New Orleans are pretty much synonymous. But where did it come from, and how did it start? New Orleans native, jazz historian, and longtime tour guide John McCusker takes visitors through the history of jazz in NOLA, going deep into its history to reveal many off-the-radar jazz joints while explaining its powerful connection to this very American genre of music. Tours start at $50.
-> Click here to book your Cradle of Jazz History Tour!

4. Two Chicks Walking Tours
Two Chicks takes small groups on walking tours of the Big Easy, covering pretty much the whole city with their various offerings. Choose from tours of the French Quarter or the Garden District, or choose by theme (for example, the Brothels, Bordellos, and Ladies of the Night tour is sure to stimulate the senses). Christine Miller, one of the "two chicks," has been living in New Orleans for 30 years and knows it as well as anyone. Tours start at $30.
-> Click here to book your tour with Two Chicks!

5. New Orleans Secrets' Mystery of Voodoo Tour
Voodoo in New Orleans can trace its roots back to the 18th century. The tour company New Orleans Secrets offers a fascinating voodoo-themed tour about this secretive amalgamation of religions. The guide teaches small groups about its history and connection to slavery in New Orleans, while visiting authentic voodoo-related sites and a shop. If your interest has been piqued by the city's past, this is the tour for you. Tours start at $32.
-> Click here to book your voodoo tour with New Orleans Secrets!

6. New Orleans Architecture Tours
Buildings in New Orleans, especially in and around the French Quarter, are easily identifiable. This fascinating walking tour, organized by the New Orleans Architecture Foundation (NOAF), takes visitors through various neighborhoods, spotlighting their architectural stars. You can choose between the French Quarter, the Garden District, the Marginy, Tremé, or Poydras Street, or from among various cemetery tours. Tours start at $30.
-> Click here to book your New Orleans Architecture Tour!

7. Drink & Learn
Wouldn't it be nice if learning and drinking were married more often? They are, though, on this bibulous two-hour walking tour. Drinks historian Elizabeth Pearce takes thirsty visitors through New Orleans one drink at a time. Imbibe some classic local cocktails while learning the history of the city through the story of those libations. The tour, surprisingly, doesn't stop at any bars, but cocktails are consumed while hitting major (and minor) landmarks. Tours start at $55.
-> Click here to book your tour with Drink & Learn!

8. Jogging Tours by Steven
Steven gives the usual New Orleans walking tours — the French Quarter, the Garden District, cemeteries — but just because you're going on foot doesn't mean you can't run. Take Steven's three-hour jogging tour of the French Quarter to learn some New Orleans history while burning off some calories from all those po' boys, beignets, and jambalayas you've been inhaling since your arrival. Tours start at $49.
-> Click here to book your Tour by Steven!

9. Strange True Tours
Billed as the "first NSFW French Quarter tour," this guided jaunt delves into weird and wacky New Orleans' history, focusing on true crime stories, brothels, the mafia, and other sordid tales that are too bizarre to have been made up. There's even an intriguing JFK/Lee Harvey Oswald stop. Tours start at $50.
-> Click here to book your Strange True tour!

10. Doctor Gumbo Tours
You can't leave New Orleans without taking a food tour. Doctor Gumbo's will fill you up and make you hungry for more artery-hardening deliciousness. Plus, you'll walk away with a deeper understanding of the history of the food here too. Over the course of three hours and six locations, you'll sample Creole brisket, po' boy sandwiches, gumbo, and more. This is a must-do for foodies! Tours start at $70.
-> Click here to book your Doctor Gumbo Tour!

11. New Orleans Music & Heritage Tour
Focusing on the history of music in New Orleans, this French Quarter tour takes you to sites associated with blues, jazz, and rock in NOLA. The guide, Keith Abel, plays related music via a Bluetooth speaker, right there on the spot. Learn about the music created here, from a few centuries ago all the way up to the present day. Tours start at $30.
-> Click here to book your Abel Tour!
***
Walking tours are a great way to get a primer on a destination. Even if it's your second, third, or even fourth visit to New Orleans, a tour can be a fun way to learn about it from a different perspective and deepen your experience. This is a city with layers after all.
And as added bonus, you'll be helping small business tour companies make a living. So laissez les bons temps rouler!

The post The Best Walking Tours in New Orleans appeared first on Nomadic Matt's Travel Site.