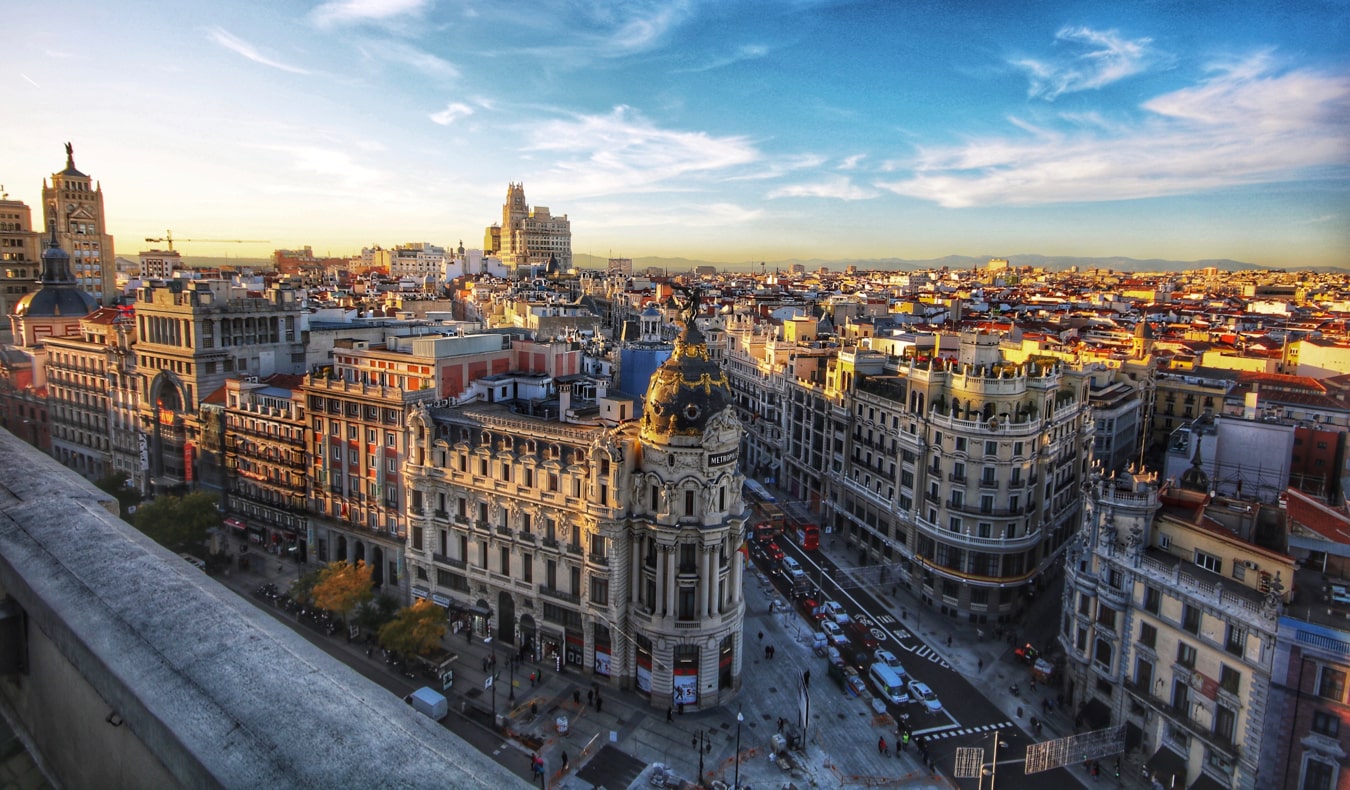 Posted: 6/25/2020 | June 25th, 2020
Madrid is an energetic city known for its late nights, historic sites, and delicious cuisine. It's a massive city bursting with beautiful architecture.
I've been to the city numerous times. It's an incredible city where little alleys reveal hidden restaurants and bars and locals who like to start their nights late and go early into the morning. (It's definitely a night owl city.)
As the capital of Spain, there's a lot of history and art here. You could spend weeks here. There's an endless amount of things to see and do in Madrid.
To help you make the most of your trip, here are my favorite things to do in Madrid, from museums to food tours to cultural experiences and more:

1. Take a Free Walking Tour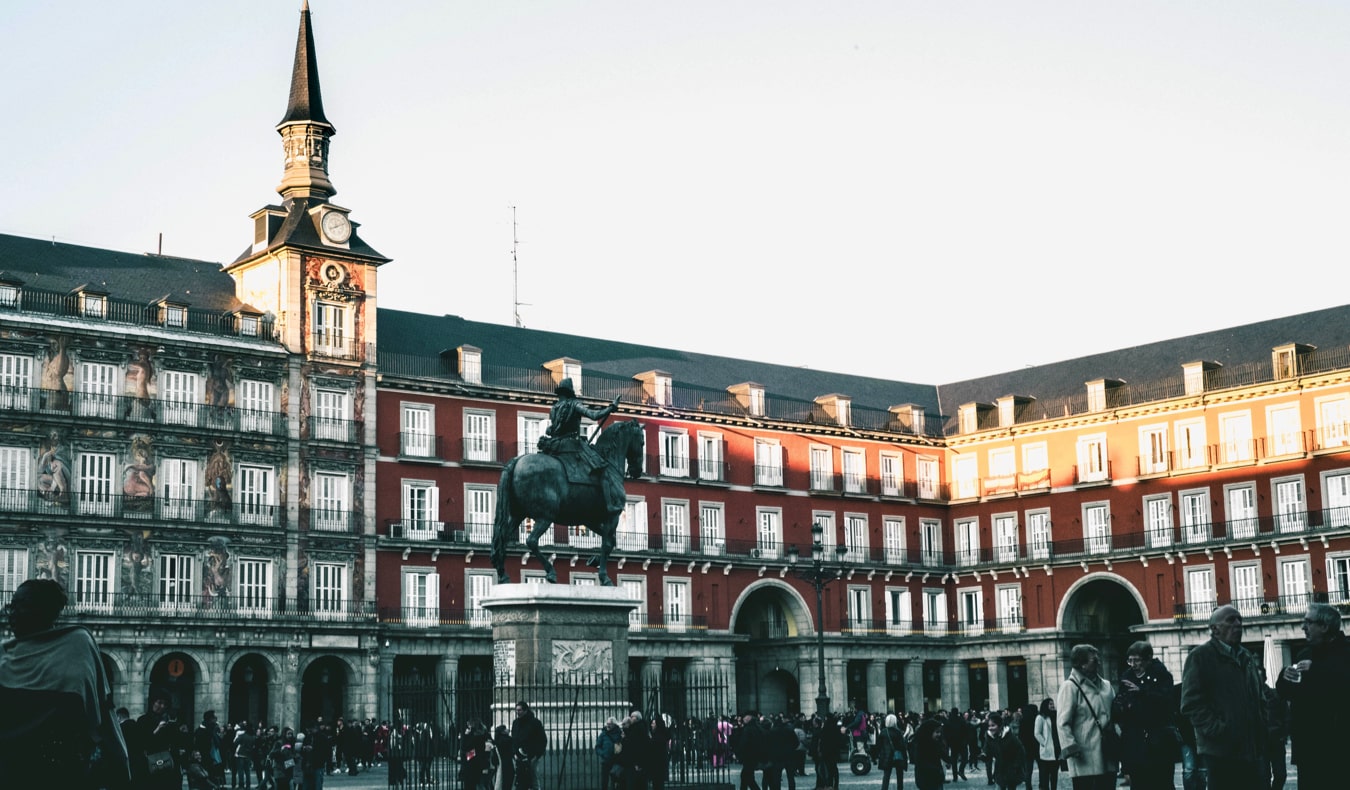 I love taking free walking tours. They're a budget-friendly way to see the main sights, learn some history, and get a feel for the city. You get access to a local guide who can answer all your questions and give you insider tips on where to go and what to do. Free Walking Tours Madrid and New Europe both offer comprehensive tours. Just make sure to tip your guide at the end!
For a more in-depth tour, Take Walks offers the best paid tours in the city. It's my go-to walking tour company because its tours are super detailed and insightful.

2. Visit the Royal Palace
Construction began in 1735, and the palace was home to Spain's monarchs until the 1930s. The palace is only used for official state functions now. You can visit and explore the historic buildings and grounds via both guided and self-guided tours. The palace has over 3,400 rooms and encompasses a massive 1.4 million square feet. The interior is lavishly decorated with massive vaulted ceilings, paintings, murals, and intricate wood carvings.
Oriente Square, +34 914 548 700, patrimonionacional.es. Open daily 10am–6pm (8pm in the summer). Admission is 14 EUR ($15.75 USD).

3. See the Cathedral of Madrid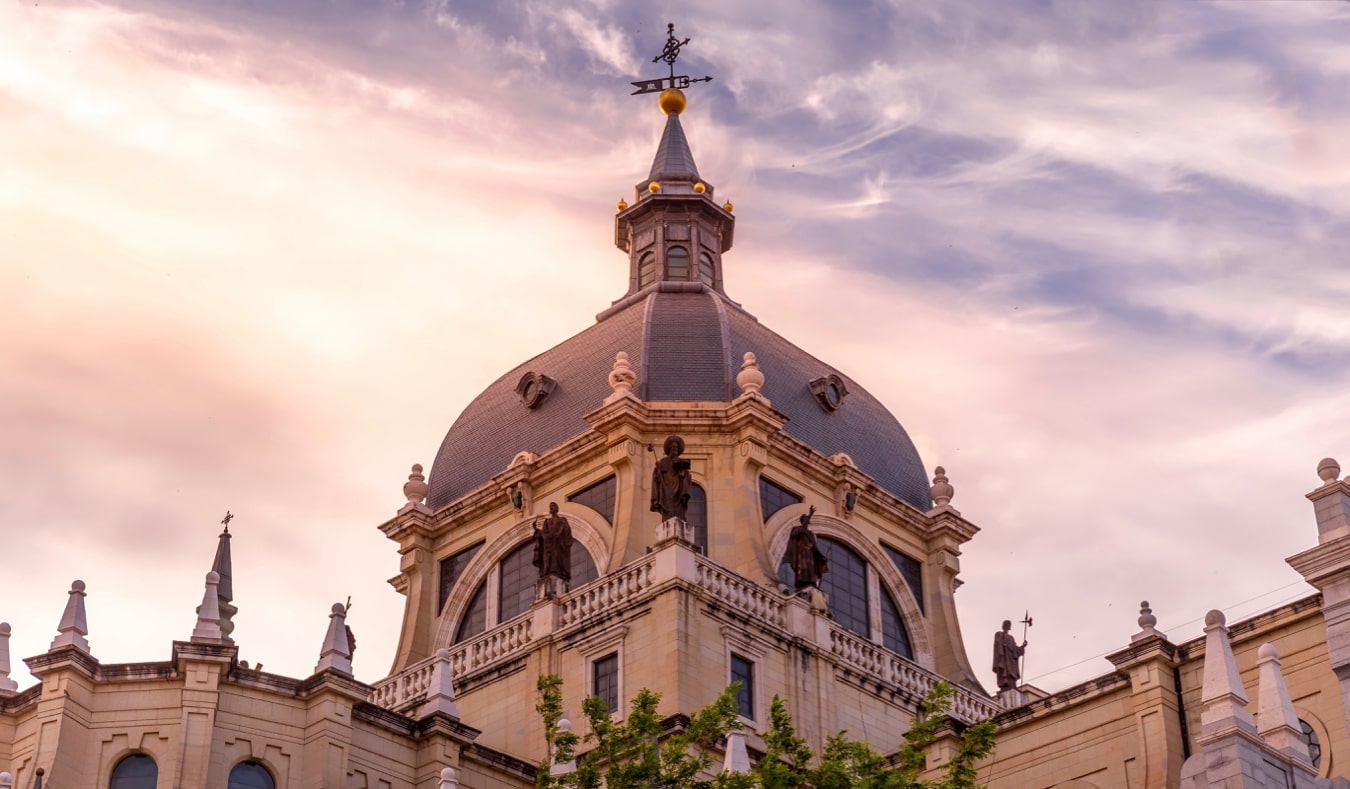 The Catedral de la Almudena, which took over 100 years to complete, is the main cathedral in Madrid. It opened in 1993. Built in the Gothic Revival style, it offers some beautiful views overlooking the city.
Almudena Square, +34 915 422 200, catedraldelaalmudena.es. Admission is free, but donations are accepted. Please dress respectfully, as this is a place of worship.

4. Relax in Plaza Mayor
Dating back to the 15th century, this square is the heart of Madrid. It's a popular place for locals and tourists to gather, eat, and shop. It's a bit overpriced these days but it offers some nice people-watching, and there are also usually events and concerts during the summer.

5. Take a Food Tour
Madrid is a foodie's dream. If you aren't sure where to start, I suggest taking a food tour. I took the Devour Madrid Food Tour run by fellow bloggers and ex-pats Lauren and James. It was informative, delicious, and absolutely filling. You can learn more in this video here:
For more on their tour, visit their website Devour Madrid.

6. Wander the Mercado de San Miguel
This covered market used to be a massive central market. Opened in 1916, it eventually fell into disrepair but was recently revitalized with amazing restaurants and food stalls. There are a lot of restaurants and stalls to find affordable tapas and drinks. It's very popular with the after-work crowd.
Plaza de San Miguel, +34 915 424 936, mercadodesanmiguel.es. Open daily 10am–midnight.

7. See the Monasterio de las Descalzas Reales
Built in the 16th century, the Convent of Las Descalzas Reales (which means "Monastery of the Royal Barefooted") was the former palace of Emperor Charles V and Empress Isabel of Portugal. Single noblewomen were invited to reside here as nuns, bringing with them any wealth they had accumulated prior. Today, it is home to just a few nuns who look after the grounds and its relics, which include (alleged) pieces of Jesus's cross as well as the bones of St. Sebastian.
Plaza de las Descalzas, +34 914 54 88 00, patrimonionacional.es/real-sitio/monasterio-de-las-descalzas-reales. Open Monday-Saturday 10am–2pm and 4pm–6:30pm as well as Sundays 10am–3pm. Admission is 8 EUR ($9 USD).
8. Visit the Naval Museum
The Museo Naval de Madrid highlights the history of Spain's historic naval capabilities and accomplishments. It covers the 15th century to the present, with information on ships, wars, and colonies and how those all related to Spain as a world power. The museum has all kinds of maps and drawings as well as weapons and navigation equipment. It also houses the oldest map of the Americas, which was made in the year 1500. There's a detailed section on the (failed) Spanish Armada that I found pretty insightful too.
Paseo Prado 5, +34 915 238 516. Open Tuesday-Sunday 10am–7pm (3pm in August). Admission is 3 EUR ($3.40 USD).

9. Stroll Around the Royal Botanical Garden

Founded in 1755, this park is home to lakes, labyrinths, squares, fountains, and lots of flowers. There are some 90,000 plants here and over 1,500 trees, as well as greenhouses, sculptures, and some immaculae gardens. It's incredibly beautiful and serene.
Plaza de Murillo, +34 914 203 017, rjb.csic.es/jardinbotanico. Open daily at 10am; closes between 6pm and 9pm depending on the season. Admission is 4 EUR ($4.50 USD).

10. Explore the Reina Sofía Museum
The Museo Nacional Centro de Arte Reina Sofía is home to the country's national collection of art from the 20th century. It has many of Pablo Picasso's works (including "Guérnica"), as well as art by Miró, Kandinsky, Dalí, and Bacon. Named after Queen Sofía, it is the ninth most-visited art museum in the entire world!!
Calle de Santa Isabel 52, +34 917 741 000, museoreinasofia.es. Open daily 10am–6pm (hours vary in the summer and winter). Admission is 10 EUR ($11.25 USD) but free from 7pm to 9pm on Mondays, Wednesdays, and Saturdays.

11. Relax in El Retiro Park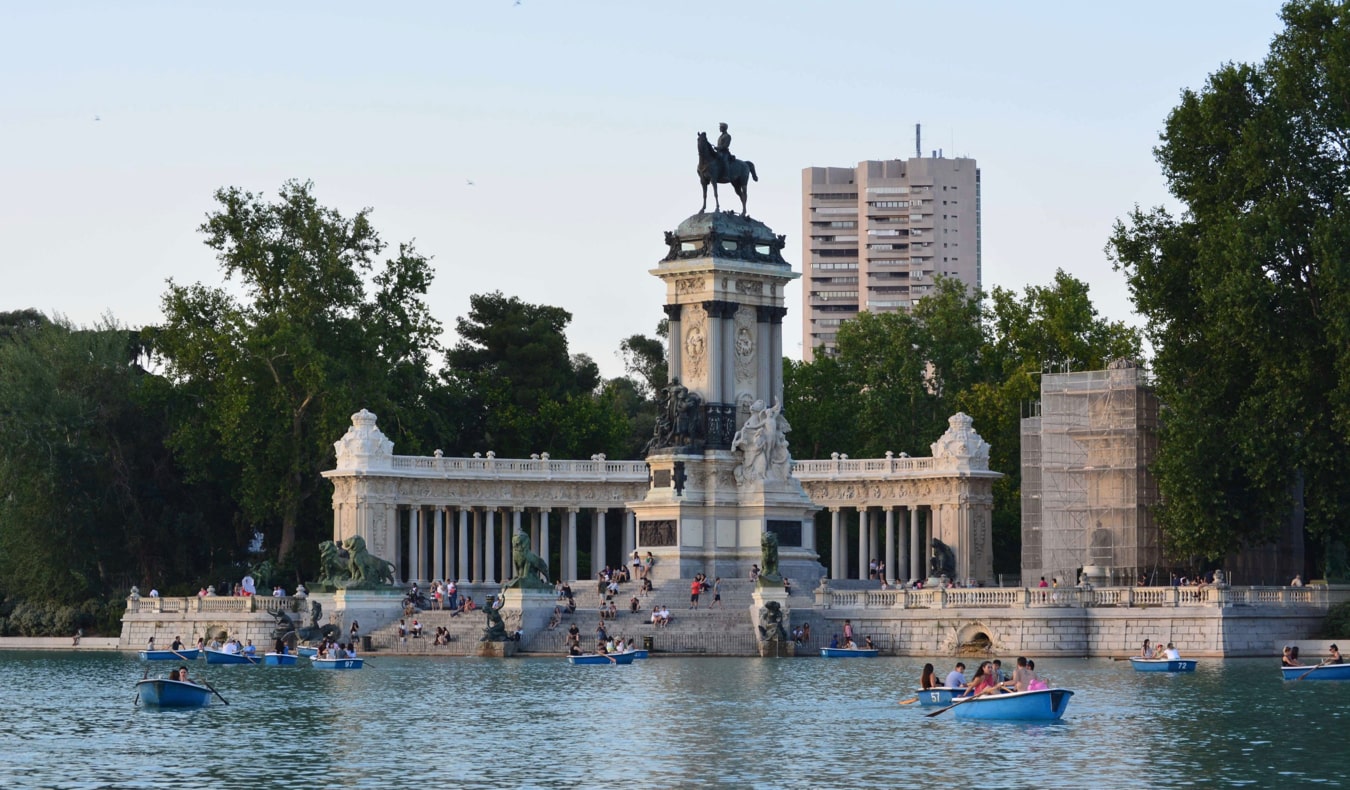 Covering over 350 acres, this is Madrid's main park. It's the perfect place to relax and lounge on a beautiful day. There's even a small lake where you can rent a rowboat. There's tons of green space for picnics, walking paths, and a monument to the victims of the Madrid terrorist bombings in 2004. The famous Crystal Palace (it's made completely out of glass) features a rotating collection of art too.

12. Visit the Prado Museum
The Museo Nacional del Prado is the third most visited museum in the world. Opened in 1819, it has around 20,000 works by Spanish artists such as El Greco, Velázquez, and Goya; Flemish and Dutch artists, including Rubens, van Dyck, and Brueghel; Italian masters such as Botticelli, Tintoretto, Titian, Caravaggio, and Veronese; and German artists such as Dürer, Cranach, and Baldung Grien. You have to visit when you're here.
Ruiz de Alarcon street, +34 913 302 800, museodelprado.es. Open Monday-Saturday 10am–8pm and Sundays 10am–7pm. Admission is 15 EUR ($16.90 USD); however, free entry is available Monday-Saturday 5pm–8pm and Sundays 5pm–7pm.

13. Learn Flamenco
Flamenco is a traditional style of dance that originated in Spain. It's a lively, expressive style known for its intricate footwork and hand movements. If you're looking to take a lesson, Madrid has a few affordable classes where you can learn the basics:
If you'd rather just take in a performance, some venues worth checking out are:
Tickets for performances usually start around 20 EUR ($22.50 USD), while classes will cost 15-30 EUR ($16.90 to $33.75 USD) per hour.

14. Watch a Soccer Match
Spaniards are crazy about soccer. Real Madrid, the capital's home team, is one of the most famous soccer teams in the world. They play at Santiago Bernabéu Stadium, which has a capacity of over 81,000 people. Games here are super popular, and fans take them quite seriously. If they're playing during your visit, be sure to watch a game. It's an amazing experience!
15. Explore the Museo de la Historia de Madrid
The Museum of History of Madrid covers the city's evolution from the 16th century (when it became the capital) to World War I. Opened in 1929, it highlights daily life throughout the ages. There are lots of artifacts, maps, paintings, and sculptures to give you a much more nuanced understanding of Madrid.
Fuencarral street, +34 917 011 863, madrid.es/museodehistoria. Open Tuesday-Sunday 10am–8pm. Admission is free.

16. Get Off the Beaten Path

Madrid has tons of quirky and off-the-beaten-path sights to see. If you're looking for some more unique experiences, here are a few worth checking out:
Reverte Coma Forensic Museum – A macabre museum full of deformed skeletons, torture devices, dissected fetuses, and much more. Insightful but unsettling!
The Muslim Walls – These walls date back to the ninth century when Madrid was under Moorish rule. They're one of the oldest structures left in the city.
Rocker Grandma – Located in the Vallecas neighborhood, this statue commemorates Ángeles Rodríguez Hidalgo, who became a local heavy metal fan when she was 70.
Guanche Mummy of Madrid – This mummy is located in the National Archaeological Museum and was embalmed by the indigenous people of the Canary Islands between the 11th and 13th centuries.
17. Visit the Temple of Debod
The Temple of Debod is an Egyptian temple that dates back to the second century BCE. Originally located near Aswan in Upper Egypt, it was dismantled and given as a gift to Spain by the Egyptian government in 1968 as thanks for helping to relocate monuments from the Aswan Dam site. The temple can now be found in Madrid's Cuartel de la Montaña Park. Although the inside of the temple is off-limits, you can still walk along the outside.
***
Whether you're a foodie (like me), a history buff (also like me), someone looking for fun nightlife, or a traveler just hoping to soak in some incredible culture, Madrid is a city that won't disappoint you. Madrid has energy and excitement and this list of things to do here can help you tap into that!
Get Your In-Depth Budget Guide to Europe!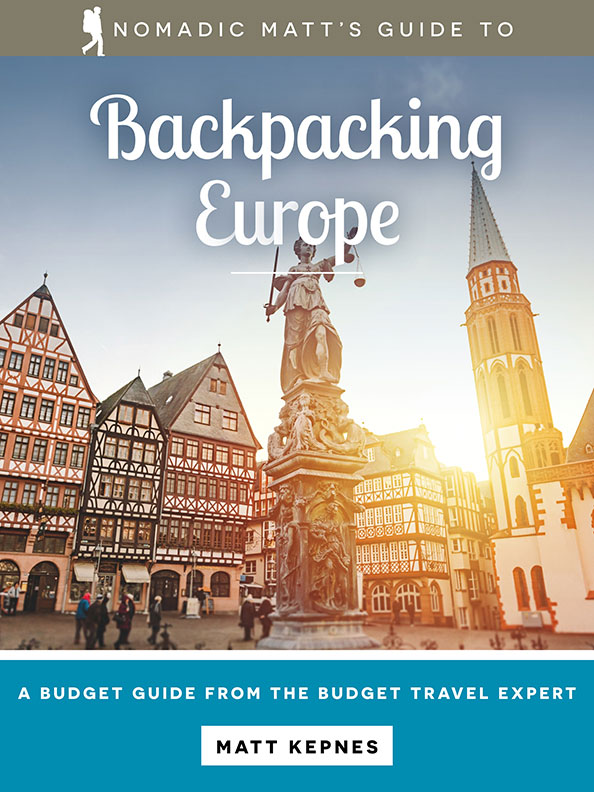 My detailed, 200+-page guidebook is made for budget travelers like you! It cuts out the fluff found in other guidebooks and gets straight to the practical information you need to travel and save money while in Europe. You'll find suggested itineraries, budgets, ways to save money, on- and off-the-beaten-path things to see and do, non-touristy restaurants, markets, and bars, and much more! Click here to get a copy!

Book Your Trip to Spain: Logistical Tips and Tricks
Book Your Flight
Find a cheap flight by using Skyscanner or Momondo. They are my two favorite search engines, because they search websites and airlines around the globe so you always know no stone is being left unturned.
Book Your Accommodation
You can book your hostel with Hostelworld, as it has the largest inventory. If you want to stay somewhere other than a hotel, use Booking.com, as it consistently returns the cheapest rates for guesthouses and hotels. I use them both all the time. My favorite hostels in Madrid are:
Don't Forget Travel Insurance
Travel insurance will protect you against illness, injury, theft, and cancellations. It's comprehensive protection in case anything goes wrong. I never go on a trip without it, as I've had to use it many times in the past. I've been using World Nomads for ten years. My favorite companies that offer the best service and value are:
Looking for the Best Companies to Save Money With?
Check out my resource page for the best companies to use when you travel! I list all the ones I use — and I think they will help you too!
Want a Guide?
Madrid has some really interesting tours. My favorite company is Take Walks, which has expert guides and can get you behind the scenes of the city's best attractions. It's my go-to walking tour company!
Looking for more information on visiting Madrid?
Check out my in-depth destination guide to Madrid with more tips on what to see and do, costs, ways to save, and much, much more!
Photo Credits: 4- Richard Mortel, 6 – Jose Luiz
The post The 17 Best Things to See and Do in Madrid appeared first on Nomadic Matt's Travel Site.