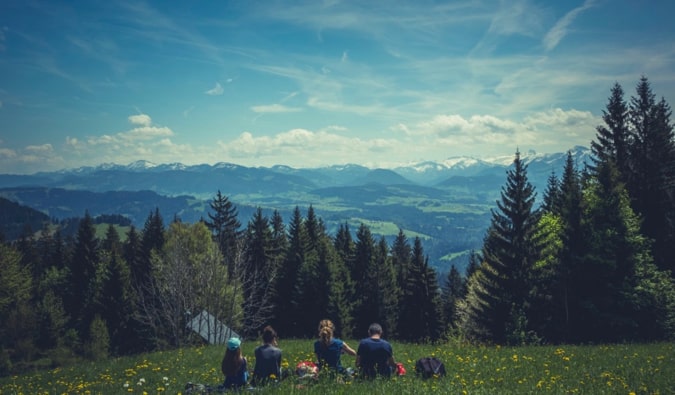 Posted: 3/7/22 | March 7th, 2022
It takes a village to keep this website going. From tech and coding to design to fixing bugs to getting readers their books when downloads fail to scheduling social media or running the forums, I have a lot of help. I simply couldn't run the website, write, travel, eat, sleep, or anything in between if I didn't have the support and help of an amazing group of people.
It's not just me writing and posting about my travels. I have a big group of full-time staff helping juggle everything.
I've realized a lot of you don't know that so, today, I want to introduce the team to you.
So, without further ado, here they are:
Erica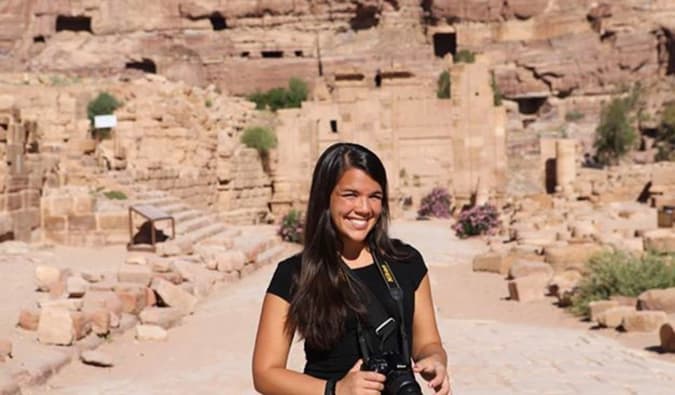 Erica has been working for me for almost six and a half years and is the events director of The Nomadic Network, our travel community. She keeps this community thriving. In her own words:
I grew up in Connecticut and went to school in Virginia. During a quarter-life crisis at age 21, I chose to finish my last year of college on an adventure in Qatar! From that moment on, my life revolved around traveling cheaply with the money I earned from waitressing. That budget got me to teach English in Isaan, Thailand, and South Korea; farm on St. Vincent and the Grenadines in the Caribbean and Costa Rica; and volunteer in rural Zambia. At age 26, I returned home to Connecticut, determined to get a job in travel. Soon after, I met Nomadic Matt at a travel meet-up in NYC, and the rest is history.
I whole-heartedly believe that traveling makes friends of strangers, and the more friends there are in the world, the more peace there is in the world.
13 Facts about Me
At 15, I helped build a schoolhouse in Nicaragua.
1. I cooked an American Thanksgiving feast for my Thai co-English teachers in Thailand where barely any of the mashed potatoes, carrots and peas were eaten so my host-grandmother fed in to the monks for the following week unbeknownst to me.
I've cut off my hair and donated it to Locks of Love, twice!
I once hunted for possums on the island of St. Vincent with a bunch of Rastafarians. We caught four and made soup. I was a vegetarian at the time.
In Costa Rica, I stayed in a sustainable living community called Rancho Mastatal, where I learned how to farm yuca, make beer out of turmeric, and build a house out of cob.
I spent 11 days on a coconut water only fast at a yoga retreat in Cambodia, twice
I taught English in South Korea for 14 months and was able to easily save enough money for 21 months of non-stop travel. I also taught the students how to use "boo" colloquially.
This music video I made used to be one of the top hits when you searched for St. Vincent and the Grenadines.
In Zambia, my friend and I were given a live chicken as a present. We were vegetarians, so we traded it for a pair of second-hand jeans in the town's market.
I got 19 people (the students and teachers on a FLYTE trip) into an airport lounge in Ecuador for free. I think that's a travel hacking record!
My college education was entirely free. How? I got a ton of tiny scholarships (I applied for everyone I could get my hands on) that added up, being a Residential Assistant in the dorms, and studying in Qatar actually saved me money (in the most expensive country in the world).
In Korea, I dated a guy who spoke no English and we basically communicated through drawing pictures and reciting American rap lyrics.
Last summer, I took a trip to Tunisia with some friends. I wish I could have stayed longer – what a cool country!
Chris O.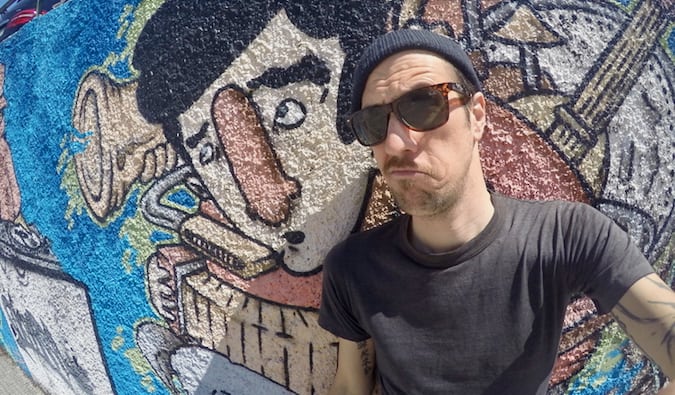 Chris joined the team as the part-time manager of the forums back in 2015. Since then, he's transitioned to full-time and has branched out into the Superstar Blogging program and helps me with all of our various admin tasks. In his own words:
I grew up in a small town in Ontario, Canada, and spent my formative years listening to punk rock, reading Star Wars novels, and generally getting up to no good. After ditching my lifelong plan to be a lawyer, I decided to give travel a try. I headed to Costa Rica on a whim and have never looked back! It wasn't long after that trip that I took a break from university (where I was studying history and theatre) to move to a monastery in Japan in 2007. I've more or less been wandering around ever since. Some notable adventures include taking the Trans-Siberian Railway across Russia and Mongolia, walking the Camino de Santiago twice, and going on a 10-day road trip around Iceland with complete strangers.
When I'm not traveling, I live in Sweden and can be found reading, writing, or hanging out with my rescue dog, Grimo.
13 Facts about Me
I spent nine months living in Buddhist monasteries.
I lived in a tent for a year.
I was once stalked by a jaguar and chased by a crocodile — on the same trip.
I haven't had alcohol in 20 years.
I've broken all my fingers and toes, and my nose three times, and I've fractured both my wrists.
I worked on an organic farm for 11 years.
I co-owned a restaurant in Canada.
I grew up next door to Avril Lavigne.
I'm an amateur prepper.
I played intramural Quidditch in high school and was our team's Seeker.
I have a Star Wars tattoo.
I've been vegan for 18 years.
I have a scar from a fight that broke out over which Norse god was "the best."
Chris R.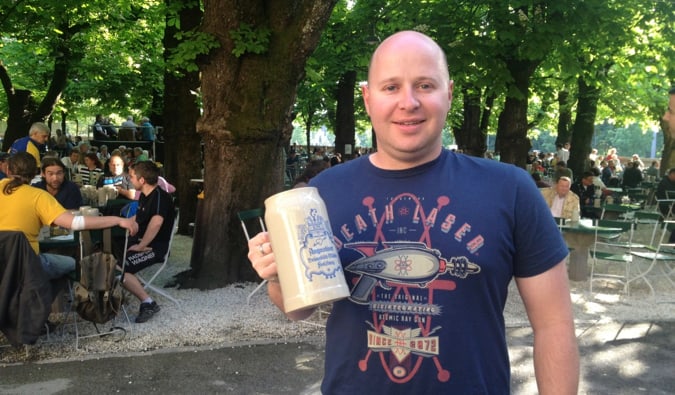 Chris, aka The Aussie Nomad, is a (kinda) former blogger who does all the tech and development work for the website. He keeps it running, fixes any errors you find, and deals with my constantly changing design desires. In his own words:
I'm living the good life in Western Australia by the beach with my amazing family. I got into the world of blogging after quitting my job, backpacking around Europe and, as all Aussies do, undertaking a working holiday in the UK. Like all of us who travel and fall in love with it, nobody wants to go home afterward.
That adventure got me into creating a travel blog many years ago, which is how I first came to know Matt. I have since repurposed my IT skills from my old life and formed my own business to help out other bloggers with their websites.
13 Facts about Me
I love Belgian beer (and I even married a Belgian).
I've worked with Matt the longest out of anyone here. (Take that team!)
I took off to backpack Europe when I was 29.
I'm an advocate for Vegemite and believe all visitors to Australia must try this national treasure.
One of my favorite activities is to take a long road trip, especially with family and friends.
I have no idea how four-way stop signals in the U.S.A. don't all end up as accidents.
I do not drink Fosters. It's a terrible beer. No one in Australia actually drinks it.
I like to think of myself as an amateur photographer.
I failed kindergarten as I wouldn't say goodbye to the teacher.
My first job was working in a supermarket.
I can't sleep on a plane – no matter how long the flight is.
I can name every Thomas the Tank Engine character thanks to my son.
I don't drink coffee or get people's love for it. Tea all the way!
Carmela

Carmela is the Executive Director of our non-profit FLYTE that makes travel accessible to underserved youth from across the country. She handles anything and everything from fundraising, working with our partner schools to plan student trips abroad, connecting with our incredible donor community, and managing our volunteer team.
Born and raised in New Jersey, I had the privilege of taking my first international trip when I was 3 to visit my family in the Philippines where I refused to ride the local jeepneys because they didn't have seatbelts! Since then, my love for travel has evolved. In 2012, my husband, Raymund, and I took a round-the-world honeymoon that was supposed to scratch the travel itch (lol). We came back home to NYC for a few years before taking the leap to become full-time remote workers, and have lived all over the world ever since.
When I'm not running FLYTE, I love planning trips (even if they're not my own), practicing yoga, hiking, rock climbing, reading, eating, and eating cookies (which are their own food group, in my opinion).
13 Facts about Me
I LOVE Math! I have a degree in it, taught statistics to college students, and few things make me happier than a well functioning Excel spreadsheet.
I come from a family of educators. My parents were both teachers before they immigrated to the US from the Philippines in the 70s. Before I left to travel, I worked for the Chancellor of NYC Public Schools, the largest school district in the country, and now running FLYTE is pretty much my dream job because it combines my love for education with travel.
The Notorious BIG and I share the same birthday. Juicy is one of my favorite songs.
I still don't fully understand how to use Twitter.
I like suspenseful movies & TV shows, but hate the feeling of being in suspense, so I often read what happens before watching so I can relax and enjoy my viewing experience.
My favorite cartoon is Alvin & the Chipmunks. I still have an Alvin doll that I was gifted on my 1st birthday. It bears no resemblance to the actual Alvin Seville anymore.
I attended an all-girls high school and a women's college – that environment there largely shaped who I am today.
My guilty pleasure is watching Terrace House – the Japanese equivalent to the Real World.
My dad has an identical twin brother and they used to play tricks on me and my cousin when we were younger. It's equally funny and traumatizing.
I hate raisins, especially in cookies.
I'm an only child, but have over 30 first cousins. I love them as if they were my actual siblings.
Raymund and I met in Hawaii. For that, and many other reasons, it's my most favorite place in the world.
I know every lyric to every song from the Sound of Music.
Maria

Maria Mallory works as our Marketing and Communications Manager for The Nomadic Network. She manages our community of travelers, our virtual events, and TNN's designs and social media channels.
I'm intrigued by the idea of change — I used to freak out if my parents even changed the blinds in my childhood room, but now I look forward to seeing how things, places, relationships, and my own mind can completely morph into something brand new. It's probably why I feel so pulled to continue exploring. I've lived in both Taiwan and Thailand and have visited over 35 countries and counting.
My base is in Cincinnati, Ohio with my husband and doggo, but I aim to continue to see as much of the world as possible while still creating traditions I look forward to. Some of the things you'll find me doing are cooking, dancing, practicing yoga, camping and hiking, learning Spanish, pretending I'm in a Broadway musical, or sipping mimosas.
13 Facts about Me
I spent my childhood absolutely hating my curly hair but now it's my favorite thing about me and I can thank my Syrian lineage for it.
I have an affinity for old school Snoop Dogg and Dr. Dre and my go-to karaoke song is "Ain't Nuthin But A G Thang."
Landfills make me cry and I've been known to go out of my way to collect everyone's aluminum cans in public places.
I taught my ESL kindergarten class in Taiwan a dance to "Love Me Do" by The Beatles that won them first place in their talent show.
A photo series my husband and I did while road tripping through the US national parks went viral on Reddit and we got a number of articles written about us thereafter.
I actually hate driving a car and feel much more at ease on my motorbike when I'm cruising around my city.
I took a work trip during my last job to Vietnam in March of 2020 and legitimately thought I wouldn't be allowed back in the borders of the USA.
I met Owen Wilson in a bar in Chiang Mai, Thailand.
My friends and I hiked to a remote homestay in Taroko Gorge, Taiwan, and around a campfire they prompted us to sing them a song in English; we settled on "Lean On Me."
I'll take any excuse to dress up in a costume and have a party. Most recently, we've made Beer Olympics and a Renaissance party a backyard tradition with our friend group.
I grew up around Pittsburgh, Pennsylvania and though it's a die-hard sports city, I actually can't stand people who make rooting for sports teams their entire personality.
My husband and I are restoring his family's 1978 vintage motorhome, and will be dedicating a lot of free time to that shortly.
In June 2021, I took a huge group of my friends to Costa Rica because I won a $5,000 VRBO stay anywhere in the world so we balled out in a villa for 2 weeks.
Sam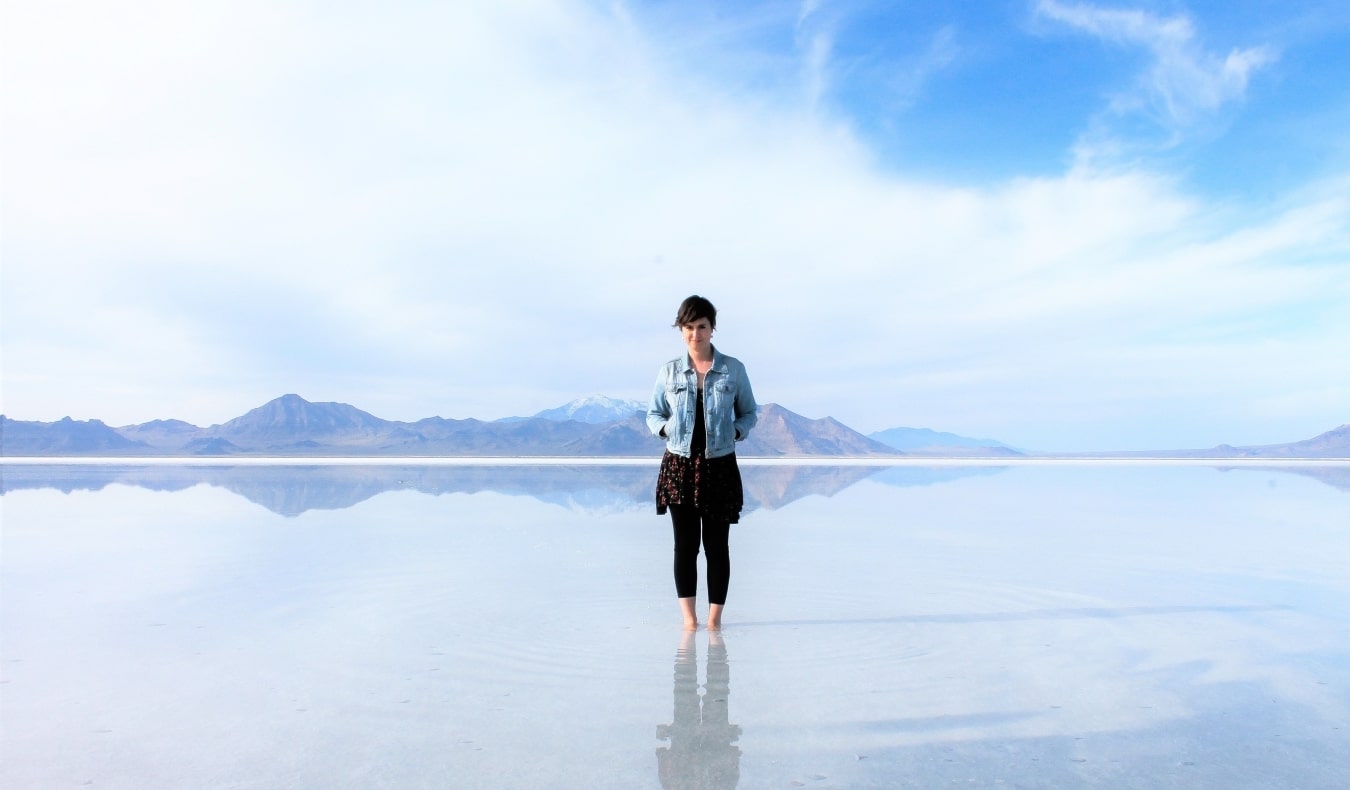 Sam joined the team at the end of 2021 as our Content Editor & Researcher. She helps Chris ensure all our content is up to date, fact-checks our travel guides, and helps with every other miscellaneous task and project that pops up!
With a parent from either side of New York State, I grew up going back and forth between NYC and Buffalo. I was also fortunate enough to spend many summers visiting family throughout Europe, which ignited my travel bug (and love of castles) at a young age. After college, I moved to Madrid, Spain, to improve my language skills and "get all the travel out of my system" before starting a PhD program. While I did eventually return home to NYC, I never readjusted and was back on the road again within a year. I ended up traveling without a home base for 4 years, rarely paying for accommodation by house sitting all over the US and Europe.
My home base is now in Buffalo, NY, a place I NEVER thought I would live again. After over a decade away, I'm shocked to be back and loving it (not the winters though…those still suck). I love to be active, and when I'm not behind a computer or traveling, I can usually be found either cycling or rock climbing.
13 Facts about Me
I studied archaeology and anthropology and worked as an archaeologist in Spain and NYC. The coolest dig I've ever been on was a Roman necropolis on the island of Menorca.
Walking 500 miles on the Camino de Santiago remains one of my most transformative travel experiences (I even got a tattoo to commemorate it).
My grandparents were all born in different places: Hungary, Austria, USA, and Puerto Rico.
I wrote my earliest piece of travel writing at age 11 when visiting my relatives in Budapest, waxing poetic about how much I loved experiencing new cultures and places.
One of my most memorable house sits was for 5 dogs and 17 cats in a solar-powered house on the Caribbean island of St. Croix. Another one was taking a cat on a road trip in southern Utah.
I used to be a competitive, nationally rated fencer. I went to the Junior Olympics at age 16 and was on the fencing team at my university (where I fenced actual Olympians and was destroyed).
I used to be very ambivalent about food before going vegan (in 2015), but now I consider myself a foodie. I love researching the best food spots in each new place I visit.
I aim to read 52 books every year, so I'm always reading a few books at a time – one fiction and several non-fiction. Too many books, too little time!
My dream destinations are Japan and New Zealand (in large part thanks to growing up on Miyazaki and Tolkien).
I am forever torn between my love for lush forests and gritty cities.
I love planning and organizing absolutely everything – lists, spreadsheets, and Google docs are my jam!
My hair has been every color of the rainbow (at different times, not all at once…yet).
I am an unabashed cat whisperer and even the most high-strung cats have been known to chill out around me.
Sevan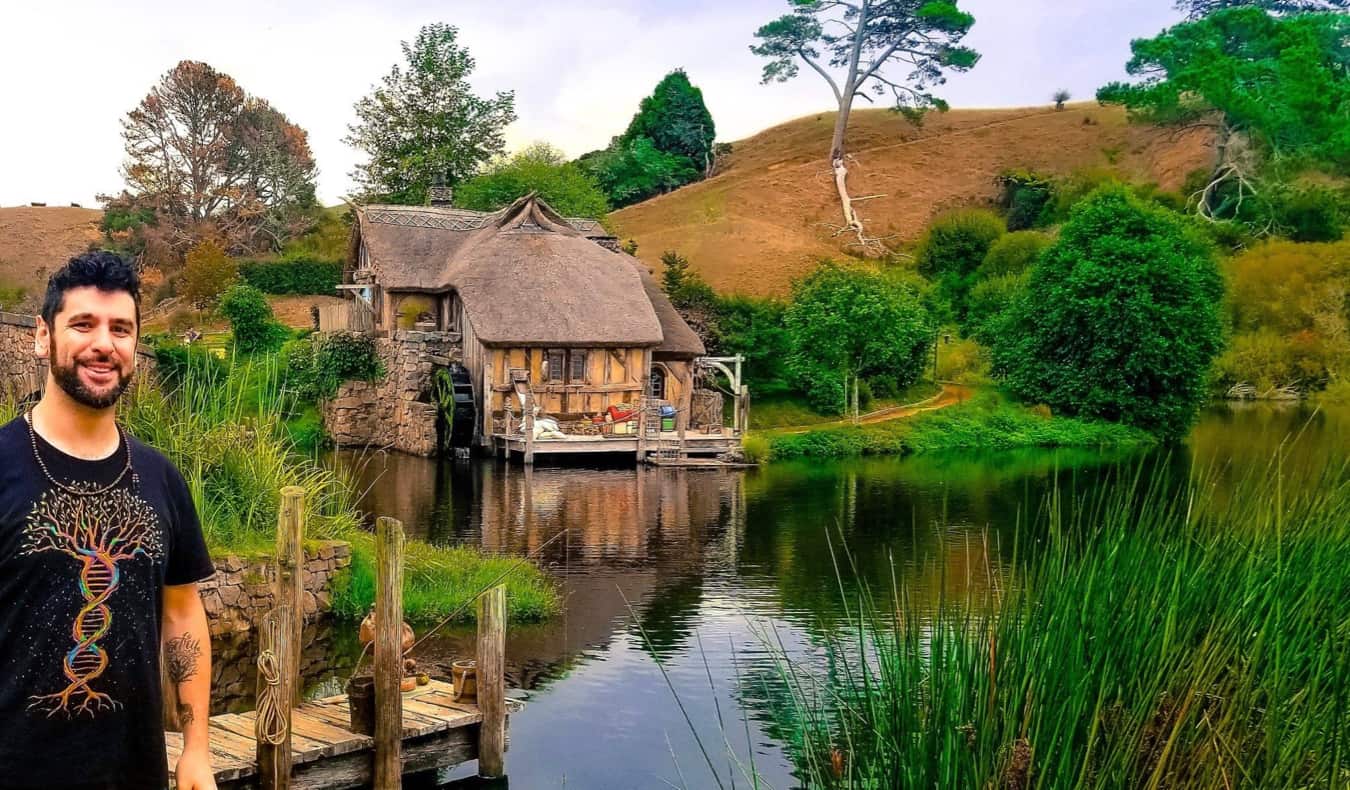 Sevan Poetry is the newest member of our team and works as the Chapter Director for The Nomadic Network. He recruits, manages, and trains all of our Chapter Leaders and helps grow the TNN community and all of our events.
Travel has completely changed my life and has made me who I am today. I felt inspired by other people having personal breakthroughs on the road and knew that I needed one for myself. I decided to face my fears head-on and step into the great unknown. In my early 20's, I sold everything I had, purchased a van, and traveled around the United States full-time.
On the road, I found the most open-hearted and courageous people within the travel community and became transformed by all my experiences. And now, after 20 years of living the most epic adventurous life, it is such a joy to be able to create these amazing experiences for others who are feeling that inner call to see the world. I believe that through travel and cultural exchange, the world becomes a more connected, inclusive, and accepting place. Through travel, we learn more about humanity and ourselves.
13 Facts about Me
I'm Armenian/Lebanese and was born in Jerusalem, Israel.
I once broke a Guinness World Record.
I have delivered 3 TEDx talks.
My favorite travel memories include shooting a documentary in Thailand, riding scooters in Bali, going speed-dating in New Zealand, and flying to Peru for a first-date. (It didn't work out, but Machu Picchu was a pretty awesome consolation prize).
I was the official travel writer and photographer for CostaRica.com and I literally got paid to stay at 5-star resorts and get massages.
I was the head organizer of the March For Our Lives event in Oakland.
I've been to 49 out of 50 states (I'm coming for you Alaska!).
I've hung out with or interviewed a lot of celebrities in my travels including Lady Gaga, Willow and Jaden Smith, Deepak Chopra, India Arie, Fat Joe, Alex Grey, Andrew Zimmern, and Bernie Sanders.
I have facilitated social and emotional learning workshops for over 100,000 people around the country with an organization called Challenge Day. Our anti-bullying, suicide-prevention workshop was featured on the Oprah Winfrey show twice.
I also somehow have been on two reality shows myself (including MTV's True Life).
I spent my downtime during the pandemic completing my Bachelors and Masters degrees online. I completed both in only one year (not bad for a high school dropout).
I have had many careers over my life including being a magician, a rapper, a full-time poker player, and a traveling poet. (Clearly, my life has been very random, but always full of adventure!).
I'm a gamer-nerd who loves chess, backgammon, Mario Kart, and anything competitive.
Nomadic Matt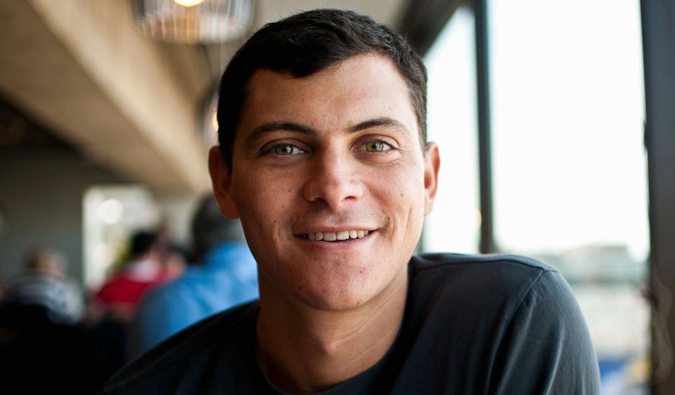 And, finally, there's me. You probably know a lot about me after twelve years of blogging (sometimes I forget how long it's been), but here's a quick refresh:
Growing up in Boston, I was never a big traveler. I didn't take my first trip overseas until 2004. That trip changed my life and opened me up to the possibilities the world had to offer. One year later, I went to Thailand, where I met five backpackers who inspired me to quit my job and travel the world. In 2006, I left for a year-long backpacking trip — and have been "nomadic" ever since.
13 Facts about Me
I love politics as much as I love travel and will debate for the joy of it.
I love to cook.
When I was in high school, I was my state's champ in "Magic: the Gathering." I know — super nerdy, right? It got me a free trip to NYC with my friend (who came in number two!).
I always worry about the future and often use my time back home to develop skills needed for the Zombie Apocalypse. Shout-out to my prepper friend Vanessa for teaching me about seeds!
I once met Paul Giamatti on the streets of NYC and he was as grumpy as I imagined.
I am an unabashed Taylor Swift fan.
I don't drink coffee.
I believe aliens exist. It's mathematically impossible they don't.
I learned to swing dance so I could throw myself a Gatsby-themed birthday party.
Both sides of my family came through Ellis Island and you can see their names on the wall where they list all the immigrants.
I used to be the head of a program by the Massachusetts Sierra Club that promoted energy efficiency.
I went to college to be a high school history teacher.
***So there you have it! The Nomadic Matt team! It's weird to think this blog I started to simply be online résumé for freelance jobs now requires eleven people to run. I always thought the more systems, automation, products, and passive income I set up, the easier it would be. I could just sit on a beach. But it seems the more we do, the more we create, the more projects I tell the team we're taking on, the more help we require. I guess that is the nature of the beast but I would have it no other way. I love what we do here. We help a lot of people realize their dreams.
And a guy couldn't ask for better co-workers to help make that happen.
Book Your Trip: Logistical Tips and Tricks
Book Your Flight
Find a cheap flight by using Skyscanner or Momondo. They are my two favorite search engines because they search websites and airlines around the globe so you always know no stone is left unturned.
Book Your Accommodation
You can book your hostel with Hostelworld. If you want to stay somewhere other than a hostel, use Booking.com as they consistently return the cheapest rates for guesthouses and cheap hotels.
Don't Forget Travel Insurance
Travel insurance will protect you against illness, injury, theft, and cancellations. It's comprehensive protection in case anything goes wrong. I never go on a trip without it as I've had to use it many times in the past. My favorite companies that offer the best service and value are:
Ready to Book Your Trip?
Check out my resource page for the best companies to use when you travel. I list all the ones I use when I travel. They are the best in class and you can't go wrong using them on your trip.
The post Meet the Team: The People Behind Nomadic Matt appeared first on Nomadic Matt's Travel Site.