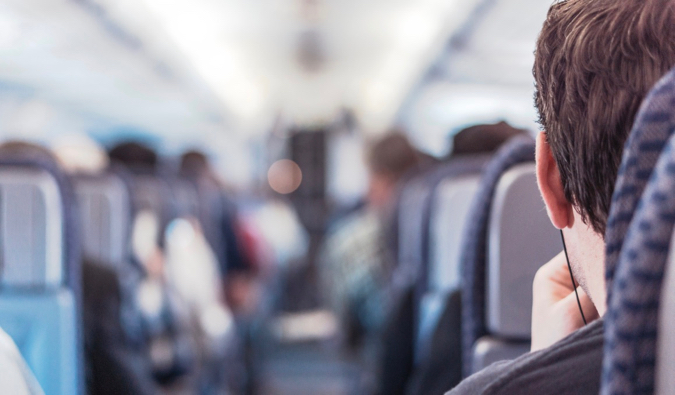 Posted: 05/18/2019 | May 18th, 2019
Travel insurance is probably the most boring topic to discuss when it comes to planning a trip. Dreaming up the perfect itinerary, finding cheap flights, buying gear — all of these things all much more glamorous!
For that reason, many budget travelers actually skip buying travel insurance. Unlike a flight, a travel backpack, or applying for a visa, travel insurance just doesn't seem necessary.
And since it's not always cheap, travel insurance is often tempting to jettison.
I mean, how often does something terrible happen when you travel?
Not often, right?
But that doesn't mean it won't happen.
Sure, over the years, I've rarely had to rely on travel insurance.
But I have still had to use it from time to time — including recently when I was stabbed in Colombia. Remember: you're fine until you aren't, which is why you get travel insurance!
Yes, for most trips you won't need your travel insurance. You'll buy it, save the details in your inbox, and never look at it again.
But a time might come when you need it.
And if you don't have it, things can get expensive fast.
I was thankful for having travel insurance when I needed to see a doctor in Argentina, when my camera broke in Italy, when my eardrum popped in Thailand, and when my luggage was stolen in South Africa.
It's much better to be safe than sorry.
In this post, I'll show you everything you need to know to help you make an informed decision about your travel insurance plan and whether or not travel insurance is a worthwhile purchase for your next trip.
 
What Does Travel Insurance Cover?
To illustrate why travel insurance is worth purchasing, here's a quick list of what the best travel insurance plans will cover (for most countries):
Medical emergencies, sudden illnesses, and injuries
Emergencies, strife in your destination, etc., that cause you to head home early
Emergency evacuation
Resultant cancellations, such as hotel bookings, flights, and other transportation bookings, if you have a sudden illness, death in the family, or some other emergency
Lost, damaged, or stolen possessions, like jewelry, baggage, documents, cameras, etc. (Also, there is some coverage for your electronics, and often an option for a higher coverage limit.)
Twenty-four-hour emergency services and assistance (you don't want to call to be told to call back later)
Financial protection if any company you are using goes bankrupt and you are stuck in another country.
Yes, robberies and natural disasters are rare. But things like canceled flights, minor illnesses, and petty theft do happen often.
With a comprehensive travel insurance plan, you'll be covered.
The Best Travel Insurance Companies for Travelers
My favorite travel insurance company is World Nomads, founded by an ex-nomad, so he understands what it's like being a traveler. I've been using them since I started traveling all the way back in 2003. They are reputable and reliable, and they process their claims quickly.
With World Nomads, you can purchase and renew your policy online in a matter of minutes, and they have friendly and responsive staff who will answer your questions promptly. They can also help solve problems via social media.
Most importantly, they provide a lot of coverage at a fair price. If there's one company I would recommend, it's this one. It's also endorsed by Lonely Planet and National Geographic, which just goes to show you how great it is!
You can use the widget below to get a quote (or just click here to go to their website directly):
(Want to learn more? Check out my comprehensive World Nomads review!)
Here is a list of other travel insurance companies I like a lot too – and why I like them!
Best high-end electronics coverage.
Affordable deductables.
Up to 5 million in coverage.
Available inside and outside of the USA.
Best for people living overseas.
The closest thing to normal health insurance.
Available for non-US residents.
25 different places to choose from.

Short-term and annual plans.
Extensive medical transport coverage.
Available for residents of USA, Canada, and Mexico
Limited time spent in foreign medical facilities.
Affordable plans.
Basic coverage options.
Great for students/shoestring backpackers.
Applicable accounts include a free student discount card.

Compare plans from 28 providers.
Best company for over 65.
"Anytime advocates" ask insurer to give your claim a second look if you think it was unfairly denied.
Guaranteed low prices.
How to Decide if Travel Insurance is for You
If you're not sure if travel insurance is the best choice for you, here are some questions to ask yourself:
Do you have a lot of money saved up for emergencies?
If you have thousands of dollars lying around to cover you in case you get injured or delayed, or need to be evacuated (emergency evacuation can cost tens of thousands of dollars), or in case your items get lost or stolen, then maybe travel insurance isn't necessary for you.
Are you traveling somewhere with expensive medical coverage?
Sure, a quick hospital visit in a budget-friendly country might not cost a lot. But in many countries, medical emergencies can cost hundreds (if not thousands) of dollars (especially if you need comprehensive care, emergency surgery, or evacuation).
Do you have a lot of money invested in your trip?
While none of us ever plan to have a trip canceled, the fact of the matter is that emergencies and surprises do happen (such as an illness, a death in the family, and work conflicts). Unless you're comfortable losing out on that money, travel insurance might be a worthwhile purchase.
At the end of the day, unless you've got tons of extra cash just laying around that you can spend on emergencies, travel insurance is likely worth the money.
I know it's not cheap (especially if you're a budget traveler), but at the end of the day, it will be much, much cheaper than paying for an emergency — and I say that from personal experience!
Why Buying Travel Insurance is a Must
Can you say no one will steal your stuff while you're backpacking Europe or that you won't pop an eardrum diving in Thailand? Can you say your flights won't get delayed or canceled?
No, you never really can.
And that's why smart travelers get insurance.
Because, for just a couple dollars a day, you'll have all those eventualities covered.
I hope nothing bad happens to you on the road, but if it does, travel insurance will be there to help. It's more than just health coverage — it's "something bad happened to me" coverage.
Yes, it's an extra expense. But if something goes wrong you'll not only save hundreds — if not thousands — of dollars but you'll have peace of mind, knowing that you're properly covered.
So, be a smart traveler. Buy travel insurance!
Book Your Trip: Logistical Tips and Tricks
Book Your Flight
Find a cheap flight by using Skyscanner or Momondo. They are my two favorite search engines because they search websites and airlines around the globe so you always know no stone is left unturned.
Book Your Accommodation
You can book your hostel with Hostelworld as they have the largest inventory. If you want to stay somewhere other than a hostel, use Booking.com as they consistently return the cheapest rates for guesthouses and cheap hotels. I use them all the time.
Don't Forget Travel Insurance
Travel insurance will protect you against illness, injury, theft, and cancellations. It's comprehensive protection in case anything goes wrong. I never go on a trip without it as I've had to use it many times in the past. I've been using World Nomads for ten years. My favorite companies that offer the best service and value are:
Looking for the best companies to save money with?
Check out my resource page for the best companies to use when you travel! I list all the ones I use to save money when I travel – and that will save you time and money too!
The post Is Travel Insurance Worth It? appeared first on Nomadic Matt's Travel Site.