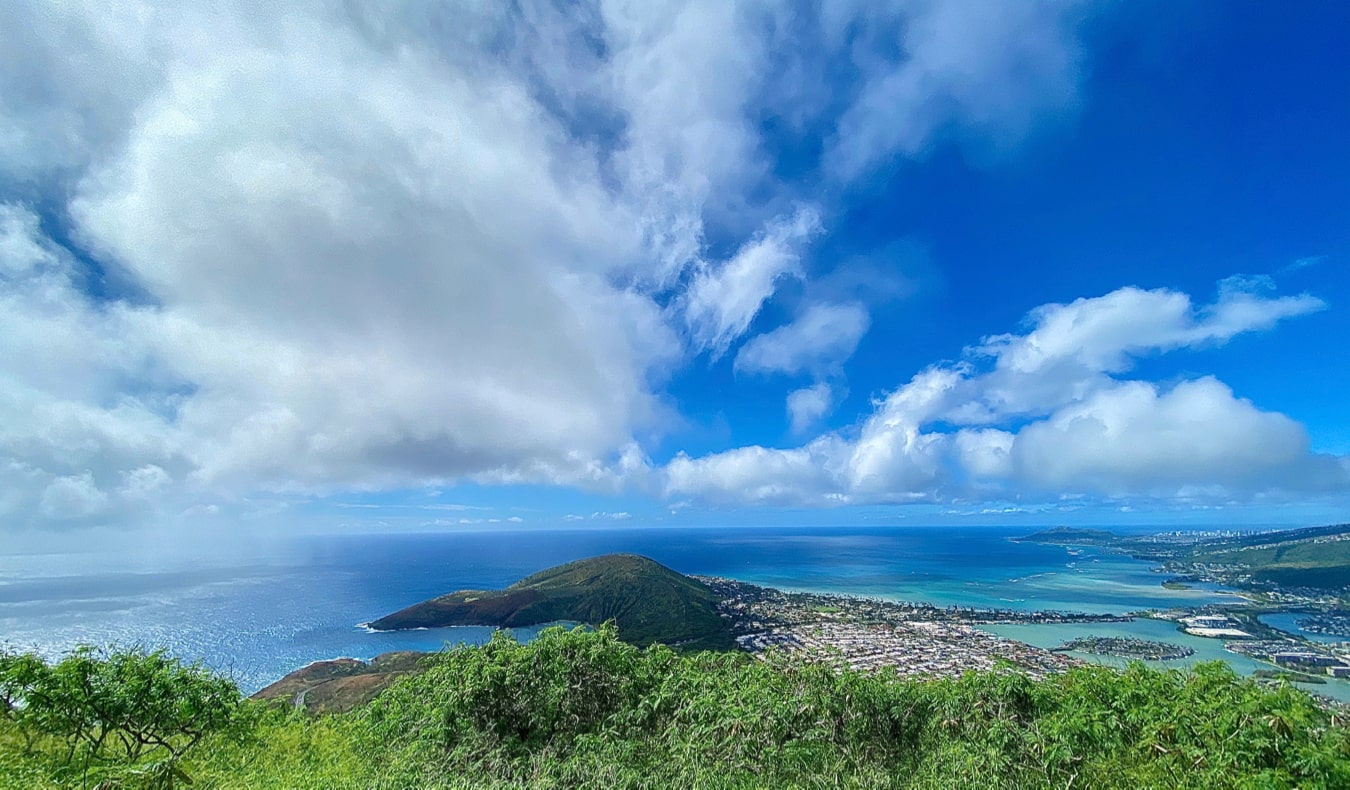 Posted: 8/3/20 | August 3rd, 2020
I didn't know much about Oahu before I visited. Everyone told me it was worth it for Pearl Harbor but to spend the rest of my time elsewhere in Hawaii. Maui and Kauai were where the action was, they said.
But Oahu was home to Honolulu's international airport from which I was catching an onward flight to Taiwan. Since I had limited time, going to multiple islands wasn't feasible.
Fortunately, after spending a full week on Oahu, I can say this: everyone was wrong.
Maybe they just let their preconceived notions get the better of them.
Or maybe they just didn't give the place a chance.
But, whatever the reason, I'm here to tell you that Oahu has some magic to it. Sure, it's quite developed, has terrible traffic, and huge crowds. And yeah, maybe it's not as "raw" as the other islands (I assume that's why people like them).
But there are plenty of spots in Oahu where you can live that Hawaiian dream
I spent a week round-tripping the island (which, given how small it is, turned out to be quite easy). My plan was simple: sit on a beach as long as I could, eat my body weight in poke (diced raw fish, pronounced "po-keh"), and hike.
Along the way, I also binged on shrimp, drank the best piña colada of my life, and took notes so you can do even better when you visit!

Driving Oahu: A Road-Trip Itinerary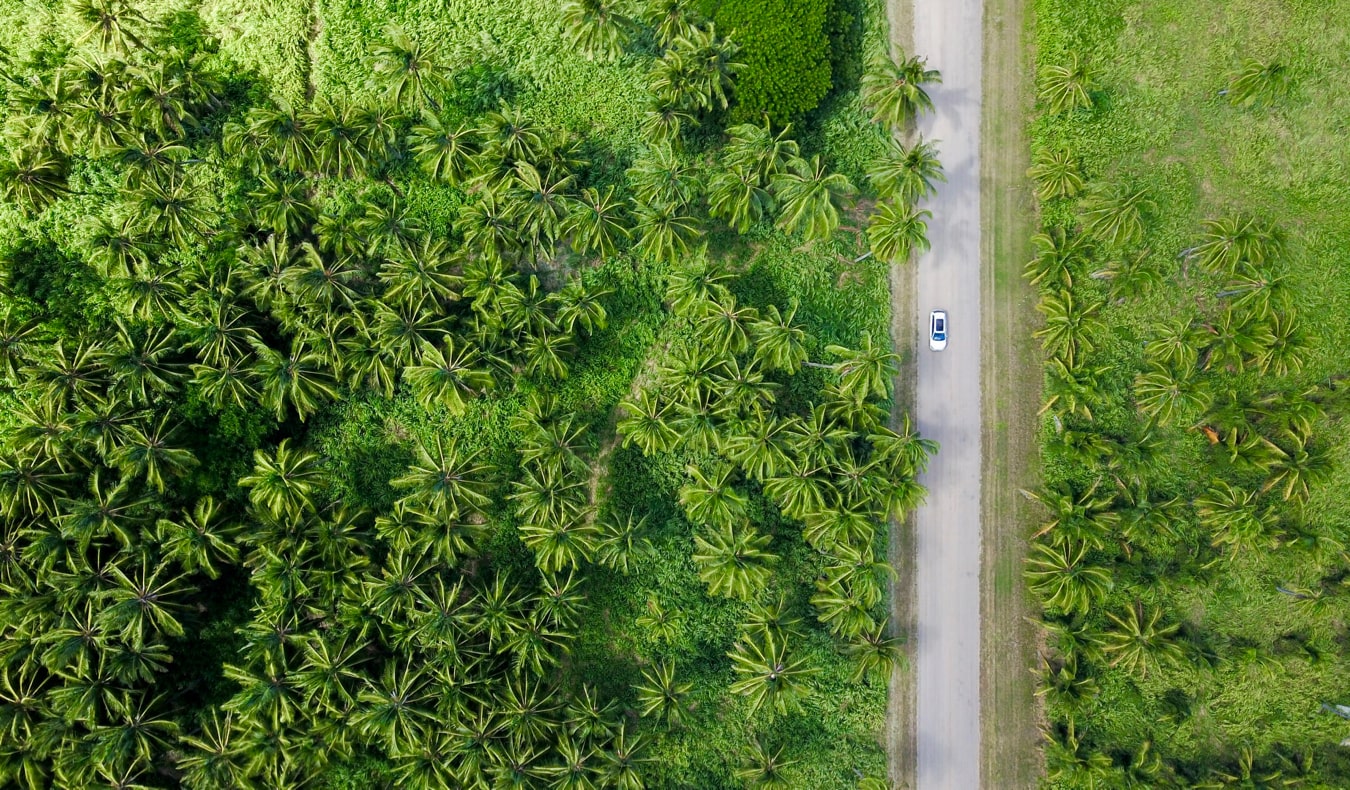 First, a tip: if you're driving around Oahu, go counterclockwise from Honolulu, since most of the food trucks you'll want to stop at are on the ocean side of the highway as you go up the east coast. So going in that direction just makes it easier to pull off the road and try all the food trucks that line the highway (and there are a lot). There's also more to do on the east side of Oahu, so it's best to start there.
That said, I actually don't think a traditional road trip is the best idea. Oahu is smaller than you think — you can drive end to end in under two hours — so everything listed below can really be done as a day trip from one base or another, which will save you packing and unpacking, as well moving from place to place too often (especially since the east and west coasts don't have a lot of affordable accommodations).
Base yourself on the North Shore for a couple of days and then in Honolulu (in the south) for a couple of days (or vice versa).

Day 1: Honolulu to Kailua (28 miles)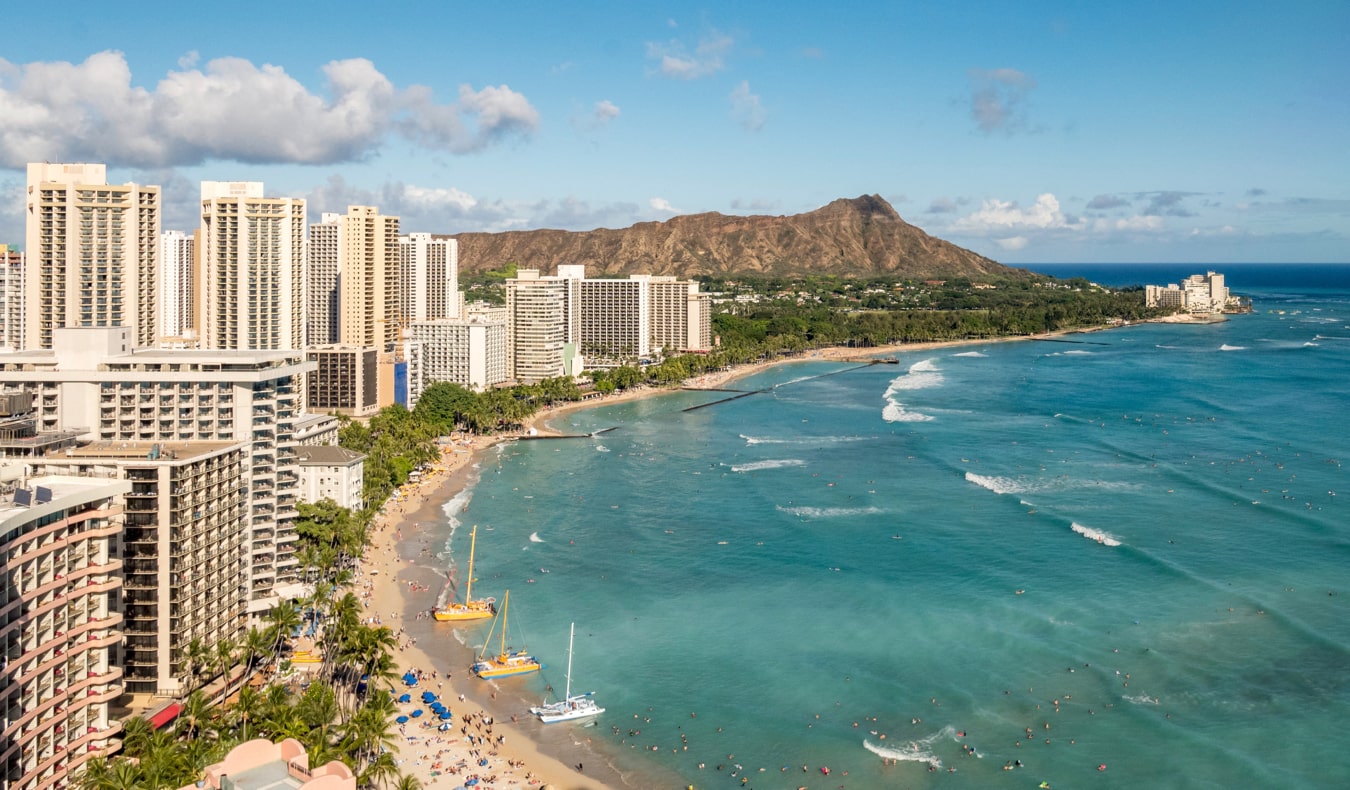 Pick up your rental car, head out of Honolulu (you'll be back later), and start off at Hunauma Bay in southeast Oahu. You can spend a few hours there snorkeling and relaxing on the beach before heading to the nearby Halona Blowhole Lookout for the view and Makapu'u Point (Oahu's easternmost point) for a short hike. There are also plenty of beaches, food trucks, short hikes, and viewpoints along the way to Kailua, where you'll want to stay the night.
Where to Eat:
Teddy's Bigger Burgers
Any of the food trucks on the way north
Buzz's Steakhouse (for dinner)
Where to Stay:
Airbnb is the best option, since there aren't many hotels or hostels in Kailua. Book early though, as there isn't a lot to choose from.

Day 2: Kailua to Haleiwa (50 miles)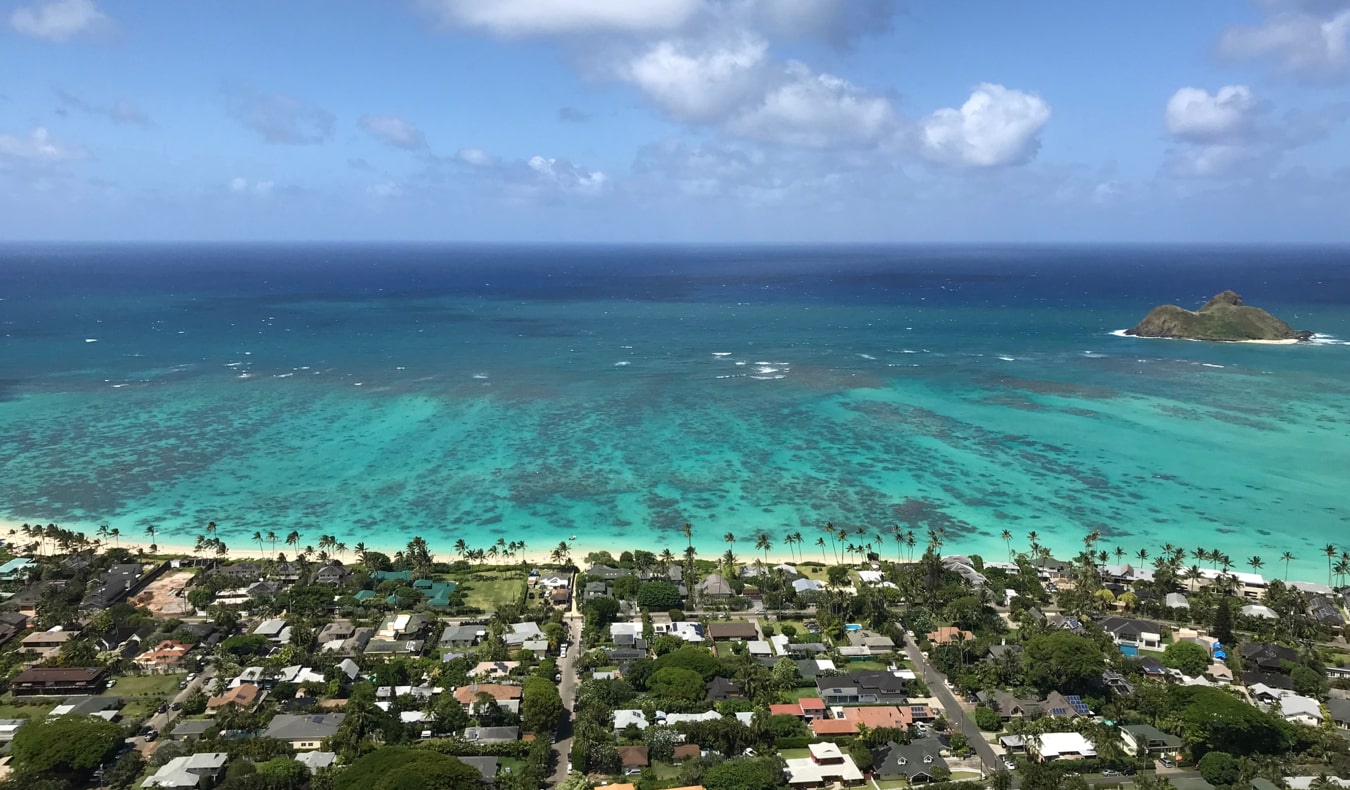 Start your morning with the famous Lanikai Pillbox hike just south of Kailua, where you can get sweeping views of the ocean and the cities and beaches on this side of the island. The hike is short (it only takes about 20-30 minutes) but steep, so wear appropriate shoes.
If you have some time in the morning, Kailua and Lanikai beaches are both beautiful (they're right next to each other and on the way from the pillbox hike). Not a lot of people, white sand, blue water. They're heaven.
As you leave this area to head north, visit the Ho'oamaluhia Botanical Garden (it's free!), which is also home to a lake filled with tropical plants.
Afterward, drive up the east coast toward the North Shore. Along the way, you can stop at the Kualoa Ranch, where many movies have been filmed. If you do a tour, I suggest the 90-minute Hollywood Movie Sites Tour (which includes scenes from Jurassic Park!), as you don't need much more time than that to see the ranch. (It's expensive, though, so if you're on a budget, I'd skip it.)
As you keep going north, you'll find a ton of beaches and hikes (there are plenty of signs for everything). I really enjoyed the Hau'ula Loop Trail especially, which is about 10 miles north of Kualoa. It's a really overgrown trail, so you'll feel like you're very much in the jungle (meaning you'll also need to bring bug spray). And like most hikes here, there's a scenic viewpoint!
Then drive around the northern tip of Oahu to Haleiwa, your base of operations while on the North Shore.
Where to Eat Along the Way:
Kalapawai Café and Deli
Fresh Catch Kaneohe
Shrimp Shack
Seven Brothers
Ken's Fresh Fish
Fumi's Shrimp
Where to Stay:
Airbnb is again the best option, as there aren't many hotels or hostels in Hal'eiwa. Book early here too.

Days 3 & 4: North Shore (Base: Haleiwa)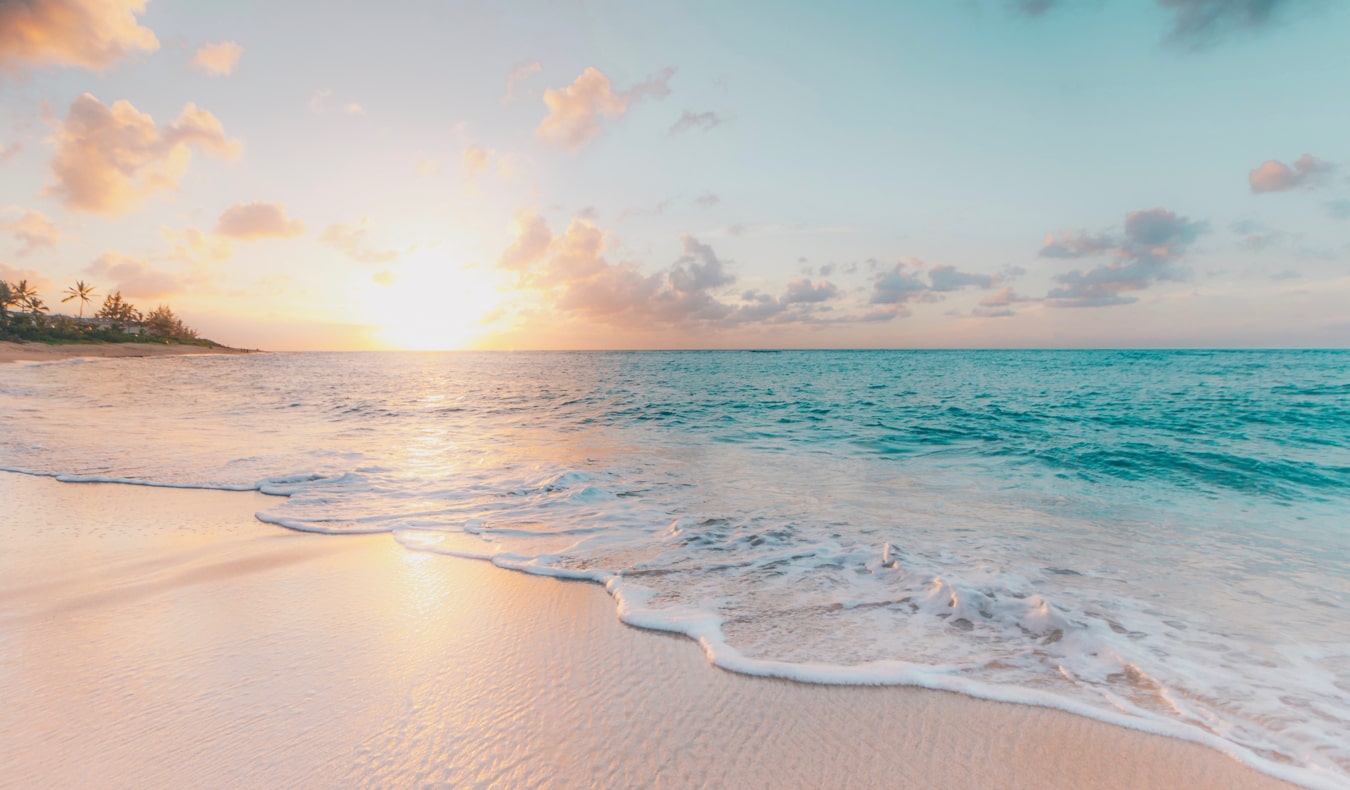 This was my favorite part of Oahu. It was Hawaii the way you imagine it should be: a lot quieter, less touristy, and less developed. And it had that whole "hippie vibe" going for it. Everyone up here was much more laid back than down south.
You can learn to surf here (two-hour lessons begin at just $80 USD) or hike the Ka'ena Point Trail (west of Haleiwa) and/or the 'Ehukai Pillbox (east of Haleiwa). The latter is pretty muddy, so bring appropriate shoes.
Haleiwa itself is a sleepy little tourist town with a bunch of restaurants, shops, and parks. There's not much to do in the town itself than eat and window shop.
If you do just one hike, though, I definitely recommend the Ka'ena Point Trail, which was one of the best experiences I had. It's a scenic two-hour coastal walk to the northwestern tip of Oahu, where you will find a protected biological area with seals and native birds. At the tip, you can see all the way down the west side of the island — a magical view. Bring sunscreen and water, as the whole trail is exposed to the sun.
Where to Eat:
Ted's Bakery
Sunrise Shack
Hale'iwa Joe's
Matsumoto Shave Ice
Ray's Kiawe
Kono's
Jenny's Shrimp Truck
Giovanni's Shrimp
Day 5: Dole Plantation, Oahu's West Side, Honolulu (60 miles)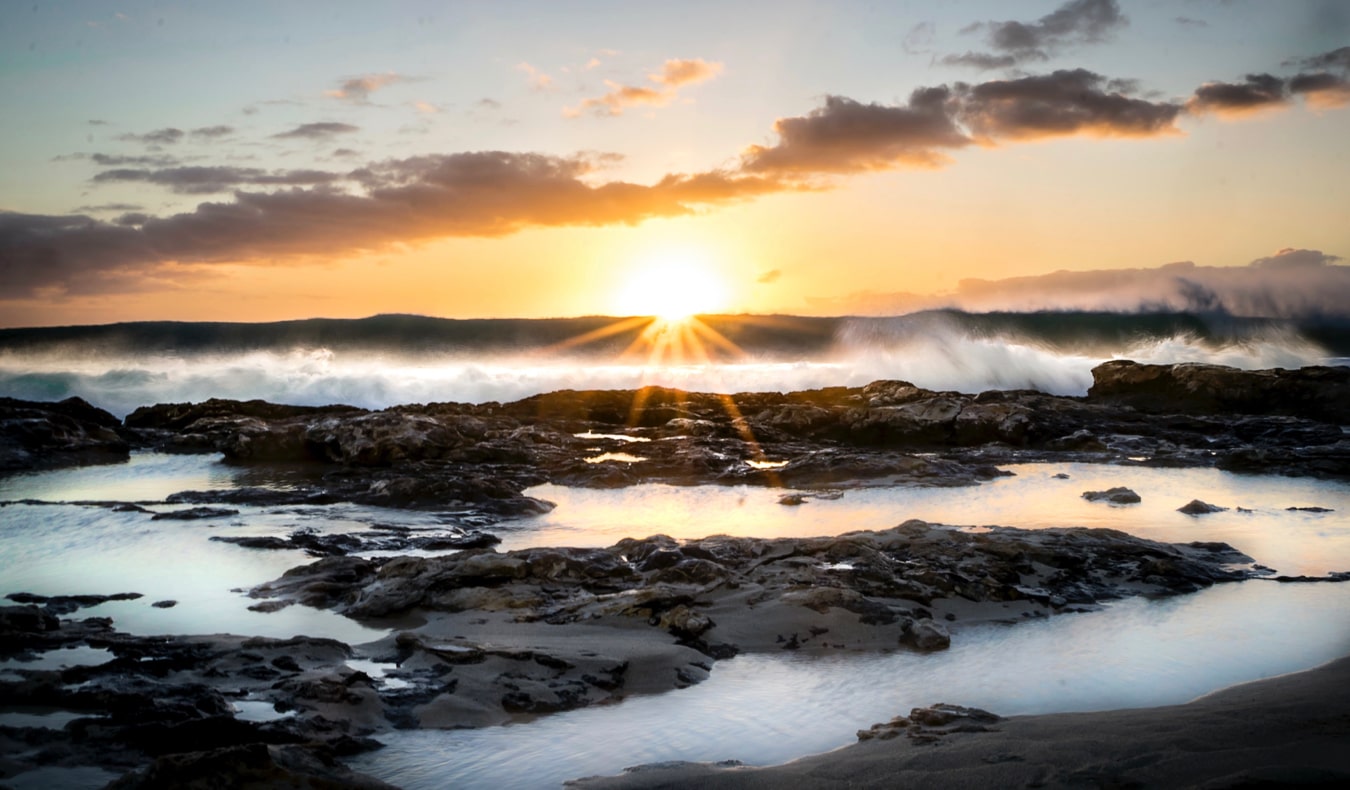 Head south (inland) and stop at the Dole Plantation. While it is super cheesy and touristy (I mean, so many useless souvenirs!), it does have a cool maze, and there's a train ride through the farm that, while whitewashing a lot of bad things, was an interesting look at the importance of the pineapple to Oahu. For a general overview geared to your average tourist, it was surprisingly informative.
Afterward, continue south toward Honolulu and then head west on the H1 road to the west coast for some deserted local beaches, such as Ma'ili, Ewa, Makua, or Yokohama. Stop at Countryside Café for some incredible diner food. The portions are pretty large, so you can share them.
Then head back into Honolulu, as there's not a lot of accommodation along the west coast. If you do want to stay longer, you'll find some listings on Airbnb and Booking.com if you book far in advance. Otherwise, there are a few hotels in Kapolei if you don't want to drive all the way to Honolulu.

Days 6 & 7: Honolulu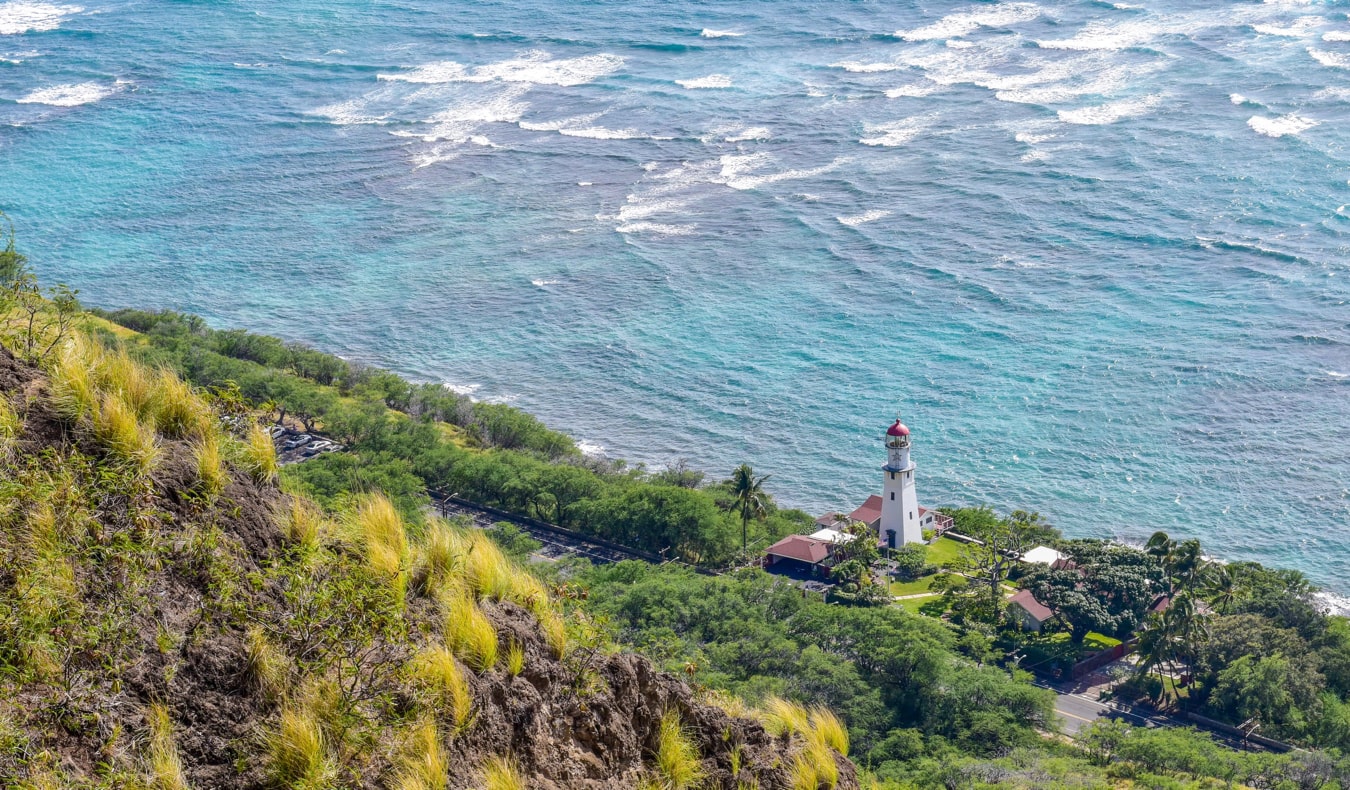 I actually liked Honolulu a lot (the main beach area of Waikiki is a tourist trap though.) While downtown is a bit bland, other neighborhoods are filled with awesome stores, breweries, bars, restaurants, and art galleries. Be sure to check out the "hip" Kaka'ako part of town in particular.
Consider going on a hike on Diamond Head, a volcanic cone on the east side of town. It offers an incredible view of the city, though it's one of the more popular trails in the area so if you aren't there early enough to beat the crowds you'll basically be walking in a slow-moving line up the mountain. If you are short on time, skip it.
Other Things to Do:
A free walking tour with Hawaii Free Tours (call ahead, since they only run when they have bookings).
Pearl Harbor – This is a must. It's not even up for debate. You have to go.
Iolani Palace, the former royal residence of Hawaii's monarchs.
Soak in the sun on Waikiki Beach or other nearby beaches, such as Ala Moana, which is popular with locals.
There's also an Islamic art museum, which is supposed to be great, but I didn't make it there.
Where to Eat:
The Pig and the Lady
Mei Sum Dim Sum
Shirokiya Japan Village Walk
Rainbow Drive-In
Leonard's Bakey
Ono Seafood
Hula Dog
Where to Stay:
The Beach – This hostel is right on the beach, includes free breakfast, and has plenty of space to relax and meet other travelers.
Polynesian Hostel Beach Club Waikiki – The accommodation here is basic, but the staff are super friendly and helpful, and they organize lots of events.
Waikiki Beachside Hostel – A fun, social hostel that hosts live music. Breakfast is included too.
Additionally, head to the Royal Hawaiian Hotel for the best piña colada of your life. It's not cheap ($15 USD a pop), but it is sooo good! Every one of my friends who didn't order one got it as their second drink. (Fun fact: My grandfather was stationed in Oahu during WWII and went back to Oahu often. The Royal Hawaiian was his favorite hotel. It's pretty cool that it's still there!)

Average costs
How much do things cost on Oahu? Here are some typical prices (in USD):
Airbnb – $100+/night for a one-bedroom or studio
Hotel – $175–250/night for a mid-range boutique hotel
Hostel dorm – $27
Car rental – as low as $20/day, plus insurance
Gas – $3–3.50/gallon
Poke bowl – $12–15
Takeout meal – $10–14
Sit-down meal at a fancy restaurant (with drinks) – $50+
Local lunch – $15
McDonalds – $6 for a value meal
Groceries – $75 for one person for a week
Beer (at a restaurant) – $8–10 ($2–3 at the Japanese Walk!)
Piña colada – $10-15
Coffee – $5
Surfboard rental – $25/day
Snorkel gear rental – $15/day
Scuba dive prices – $125
Budget Tips
Oahu is pretty expensive. Most everything has to be imported, so if it can't be grown nearby or caught in the ocean, expect to pay a lot. But it's not impossible to save money. Here are a few ways to cut your expenses:
Hike and enjoy the beaches. Nature is free!
Buy your own food from supermarkets so you can cook your own meals or have picnics. Sure, there are plenty of world-class restaurants here, but if you want to keep your food costs down, you should cook some meals. The poke at supermarkets is delicious anyway!
If you do eat out, hit the food trucks. Most cost around $10 USD for a meal — much cheaper than sit-down restaurants.
If you're going to buy alcohol, do so at Japanese markets, where you can find beer for only $2–3 USD (compared to $8 USD at bars).
Skip ride-sharing websites like Getaround or Turo (where you rent cars from private owners). They are usually cheaper than the big rental companies, but on Oahu, hosts charge you an added fee for dropping the car at the airport. I found the traditional car rental companies to be much cheaper, with rates as low as $20 USD a day.
Get your gas at Hele stations. They were consistently the cheapest on the island.
***
While Oahu is often crowded and overly commercial, there were a lot of wonderful things to do and see. To me, the best parts were the food and the hiking — with so many hikes, you could spend weeks here. My favorite part of Oahu was the North Shore, so I recommend you spend a few days there at least. I certainly look forward to returning!
Book Your Trip to Hawaii: Logistical Tips and Tricks
Book Your Flight
Find a cheap flight by using Skyscanner or Momondo. They are my two favorite search engines because they search websites and airlines around the globe so you always know no stone is left unturned.
Book Your Accommodation
You can book your hostel with Hostelworld. If you want to stay somewhere other than a hostel, use Booking.com as they consistently return the cheapest rates for guesthouses and cheap hotels. My favorite places to stay in Oahu are:
Don't Forget Travel Insurance
Travel insurance will protect you against illness, injury, theft, and cancellations. It's comprehensive protection in case anything goes wrong. I never go on a trip without it as I've had to use it many times in the past. I've been using World Nomads for ten years. My favorite companies that offer the best service and value are:
Looking for the best companies to save money with?
Check out my resource page for the best companies to use when you travel! I list all the ones I use to save money when I travel – and I think will help you too!
Need an affordable RV for your road trip?
RVshare lets you rent RVs from private individuals all around the country, saving you tons of money in the process. It's like Airbnb for RVs.
Want more information on Hawaii?
Be sure to visit our robust destination guide on Hawaii for even more planning tips!
The post How to Road Trip Around Oahu appeared first on Nomadic Matt's Travel Site.