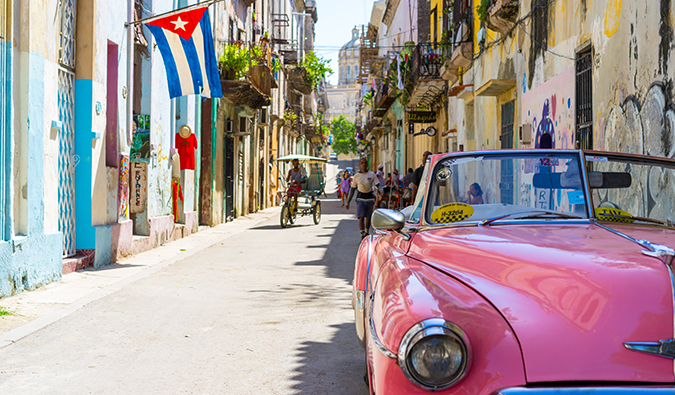 Posted: 11/28/19 | November 28th, 2019
As a Cuban-American, Talek Nantes has had a lot of experience traveling around Cuba. There's a lot more to the country than just all-inclusive resorts! In this guest post, she offers some an in-depth breakdown of how to travel around Cuba like a local.
I've been traveling between Cuba and the US since I was born. (Actually, even before I was born: my mom came to the States when she was pregnant with me. I like to say I was made in Havana and born in the USA.)
As a Cuban-American who wrote a book on the country and runs tours there, I've made it my mission to share my appreciation for Cuban culture with everyone who wants to experience it.
People frequently ask me if Cuba is expensive.
It doesn't have to be. It can be quite an affordable place to visit.
From obvious tried-and-true advice, like eat at locations at least three blocks away from popular tourist sites, to little-known tips only the locals know, here's how to experience Cuba on a budget.

1. How to save money on Cuban currency exchanges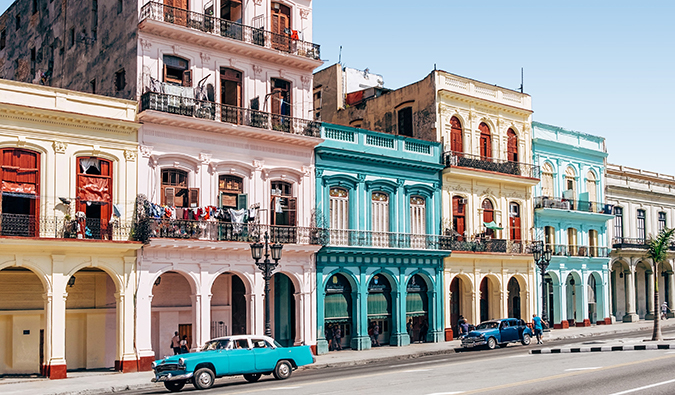 Cuban currency cannot be purchased overseas, as it is not traded internationally, so you'll need to get it on arrival.
Cuba has two currencies: the CUC, which is what tourists and visitors use, and the CUP, also called the peso, used by everyone else. As a visitor, all your transactions will be done in CUC, which is roughly equal to one US dollar. There are about 25 CUP to 1 CUC.
In a country with 2 currencies, it is important to know the difference between a CUP and CUC. For example, you don't want to overpay in CUC when something is priced in CUP. And when you receive change from a CUC, make sure the change is not in CUP. The best way to keep them straight is to remember that a CUC has monuments on its face and a CUP, or peso, has pictures of people.
Once in Cuba, you should exchange money at the airport "CADECA." A CADECA is the official government exchange location. Keep in mind that you will need your passport in order to exchange currency.
Change only enough to get you to your accommodation, then change more at the CADECAs in town, as they have better rates. Avoid exchanging currency at banks and hotels, as these offer less favorable rates.
US citizens should be aware that credit cards drawn on US banks are not accepted in Cuba and ATMs cannot dispense money from US banks, so you must bring enough cash to last the entire trip.

2. How to save money on your accommodations in Cuba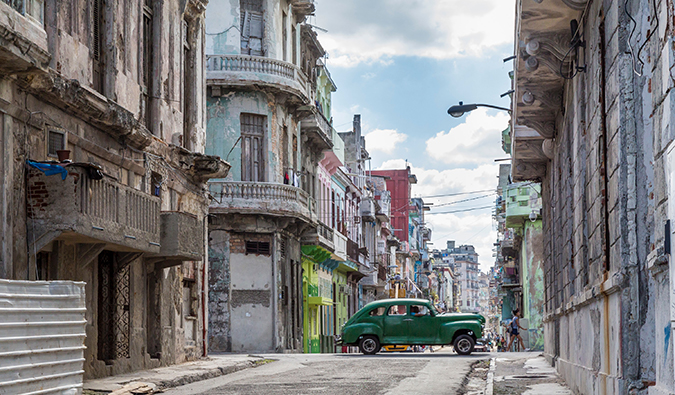 For the best value for your money, you can't beat a casa particular.
Casas particulares, or casas for short, are the homes of local Cubans who rent rooms to visitors like a B&B. You can rent a room in a private home for an average of 30 CUC per night.
The best part of staying with a Cuban family is that you can have an authentically Cuban experience. You eat with them, hang out in their living room, play with their kids or pets. You're treated like one of the family while you are there. That's a lot more rewarding than staying at a sterile hotel.
It's easy to book a casa. You can reserve on Airbnb or any number of similar online sites (though Airbnb often has the largest selection and one of the few sites Americans can widely use). You should pre-book a casa from home at least for your first night's stay in Cuba. Once in Cuba you can book the following nights yourself either through your host or just by looking for a house with the casa sign (a blue anchor with a roof on a white background) and simply knocking on the door.
Otherwise, hostels will be your best option for saving money. Some top-rated Havana hostels include the following:
Prices per night range from around 5 to 15 CUC, though most are around 11 CUC.
I find casas to be the best accommodation option. A hostel may be cheaper, but there are many casas with hostel pricing, so you get the best of both worlds: low cost plus interaction with a local family. Isn't the connection with other cultures one of the main reasons we travel?

3. The best places to eat in Cuba without breaking the bank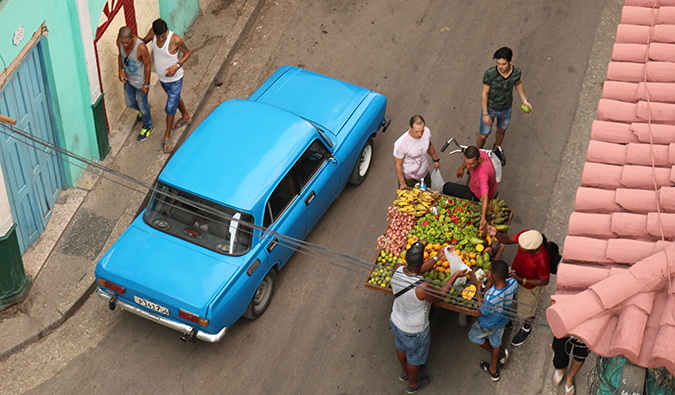 The best places to eat in Cuba are paladares. These are privately owned (vs. government owned) restaurants. There are all types of paladares, from high-end establishments in renovated mansions to hole-in-the-wall stands.
Traditional dishes you will find at paladares include arroz con pollo (chicken and rice), ropa vieja (shredded beef), and lechón (roast pork). Typical drinks include the classic mojito, daiquiri, and Cuba Libre. Fruit juices are also readily available. The local beers, Bucanero and Cristal, are very good.
Any guidebook will point out the paladares. You can also find them in the A La Mesa app.
Typical costs (in CUCs) for meals in paladares are as follows:
High-end paladar:
Mid-range paladar:
Some of my favorite paladares in Havana include Doña Eutemia, near the cathedral; Los Mercaderes; and San Cristóbal, where US President Obama had lunch. A typical meal at one of these will cost about 15–20 CUC.
Street vendors are also found throughout the country and offer little sandwiches, pizza, croquettes, pastries, and other snacks for 1 to 3 CUC. The food is not great, but it certainly is budget-friendly.

4. Cuban transportation on a budget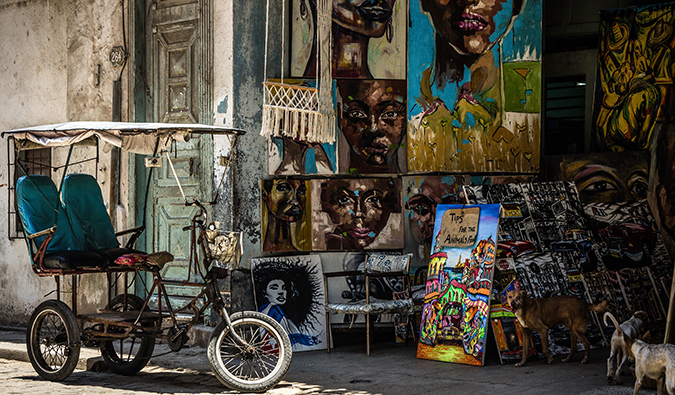 Transportation is likely to be your biggest expense, with taxis being the most common. Rule number one for getting around in Cuba is to negotiate before getting in. Tell the driver where you want to go, or show him in writing and ask how much ("¿Cuánto?"). Whatever the driver says, counter with a couple of CUCs lower. The drivers are used to this; they generally start at a higher rate, anticipating that they will end up with a lower fee.
Yellow taxis are government-run (vs. privately owned). These are used by tourists and tend to be the most expensive.
Coco-taxis are essentially motorcycles with a cover shaped to look like a yellow coconut (hence the name), and they are everywhere. They tend to be cheaper but can only take two people at a time.
Bici-taxis are rickshaw-like bicycles that'll take you around Old Havana.
Another option is the colectivo, or collective taxi. These are cars that travel busy thoroughfares within city limits, picking up and dropping off people as they go along. A trip from one end of a busy, central street to the other, or anywhere in between, will cost about half a CUC. The taxi is shared with up to six people.
Buses are overcrowded, unreliable, and not air-conditioned but they are very cheap. They travel major routes mostly outside Old Havana.
Typical transportation costs:
Yellow government taxi: 10 CUC within city limits
Coco-taxi: 5 CUC within city limits; only fits 2 people
Bici-taxi: 2 CUC per person; only fits 2 people; not motorized
Collective taxi: Half a CUC per trip in a shared taxi
Bus: About 0.20 CUC
A fun way to explore a big city like Havana is by taking a tour in a classic American convertible from the '50s, but at 40 to 50 CUC an hour, they aren't very budget-friendly.

5. Staying connected in Cuba without paying a fortune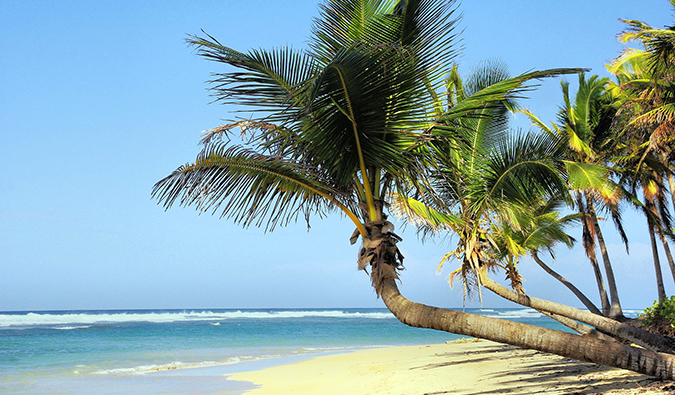 Internet access in Cuba is iffy. It is not offered everywhere, and where it is, it is unreliable.
The best way to stay connected is to purchase an internet connection card, sold in increments of 1 CUC per hour, at the local ETECSA, the Cuban government's telecommunications office with branches all over the island. You use the login and password on the card to connect your phone or computer.
You can also purchase an internet connection card at most high-end hotels, but the cost can be as high at 7 CUC per hour, so purchasing your card at an ETECSA is a huge savings.
Once you have your card, find a location where you can connect. Most parks have connectivity, as do areas around ETECSA offices. Just look for groups of people huddled over their phones.
Higher-end hotels also offer Wi-Fi at outrageous fees.
If you don't use up your internet time, the leftover will be saved on your card and you will be able to use it again.
A typical daily budget
For a typical day in Havana, Cuba's most expensive city, you can expect to budget as follows:
Breakfast at your casa: 5 CUC
Street food snacks: 2–5 CUC
Lunch at a paladar: 5–7 CUC
Dinner at a paladar: 5–10 CUC
Alcoholic beverage: mojito: 2–3 CUC, beer: 2 CUC, rum: 5 CUC/bottle
Room in a casa: average 30 CUC
Intracity taxi: 2–10 CUC
Museum entrance fee: 2–8 CUC
Entrance fee to a music venue: free or 2–10 CUC
Internet connection card 1–2 CUC
To be on the safe side and leave yourself a little room to splurge, budget 100 CUC/day. Keep in mind you may want to purchase the world-famous cigars and rum. The local art you find at the many galleries around town may also appeal to you.
Traveling outside of Havana
When traveling outside Havana, you've got a couple of options. The most convenient and expensive is to reserve a taxi that will pick you up at your casa and deliver you door to door. Your casa host or hostel or hotel staff can arrange one for you.
Another option is the national bus service, which extends across the entire country. The buses are air-conditioned, and the prices are very reasonable. Prices from Havana to popular destinations are as follows:
Havana to Viñales: 12 CUC
Havana to Trinidad: 25 CUC
Havana to Varadero: 10 CUC
Havana to Santiago, on the far side of the island: 51 CUC
You need to purchase your tickets at the Viazul bus station at Avenida Independencia #101, at the corner of 19 de Mayo. The buses will take you to the bus stations in your destination city, which are generally in very central locations convenient to wherever you want to go.
There are car rental agencies throughout Cuba with which you can organize a self-drive tour. However, keep in mind that the roads outside Havana can be in very poor condition and difficult to navigate. With easy transportation within the big cities and convenient bus service between cities, a car rental may not be your most budget-friendly option.
Domestic flights are pretty unreliable and I wouldn't recommend it.
***
Before traveling to Cuba, US citizens should check the travel requirements. Ordinary tourism is prohibited for US citizens. All US visitors must travel to Cuba under one of 12 US government approved categories. "Support for the Cuban People" is the most commonly used category and can be selected when purchasing the airline ticket.
Experiencing Cuba on a budget certainly has its challenges, but it is totally worth it.
Cuba gets under your skin quickly. It bewitches and beckons you to explore more of it.
No matter how many times I return to Cuba I always find something to amaze me; a new art venue, a remarkable piece of 18th century architecture or an innovative take on traditional Cuban cuisine.
Cuba is a safe, beautiful country with welcoming people and a fascinating culture. Put it on your must-visit list and you won't be disappointed.
Talek Nantes is an author, digital content creator and founder of the travel blog, Travels With Talek. She is a passionate travel enthusiast and enjoys sharing her travel experiences with others. She lives in with her husband in New York City and Miami. Talek leads tours to Cuba and her most recent book is Don't just travel to Cuba, experience Cuba available on Amazon.
Book Your Trip: Logistical Tips and Tricks
Book Your Flight
Find a cheap flight by using Skyscanner or Momondo. They are my two favorite search engines because they search websites and airlines around the globe, so you always know no stone is being left unturned.
Book Your Accommodation
You can book your hostel with Hostelworld as they have the largest inventory. If you want to stay somewhere other than a hostel, use Booking.com, as it consistently returns the cheapest rates for guesthouses and cheap hotels. I use them both all the time.
Don't Forget Travel Insurance
Travel insurance will protect you against illness, injury, theft, and cancellations. It's comprehensive protection in case anything goes wrong. I never go on a trip without it, as I've had to use it many times in the past. I've been using World Nomads for ten years. My favorite companies that offer the best service and value are:
Looking for the best companies to save money with?
Check out my resource page for the best companies to use when you travel! I list all those I use to save money when I travel — and they will save you time and money too!
The post How to Experience Cuba on a Budget appeared first on Nomadic Matt's Travel Site.