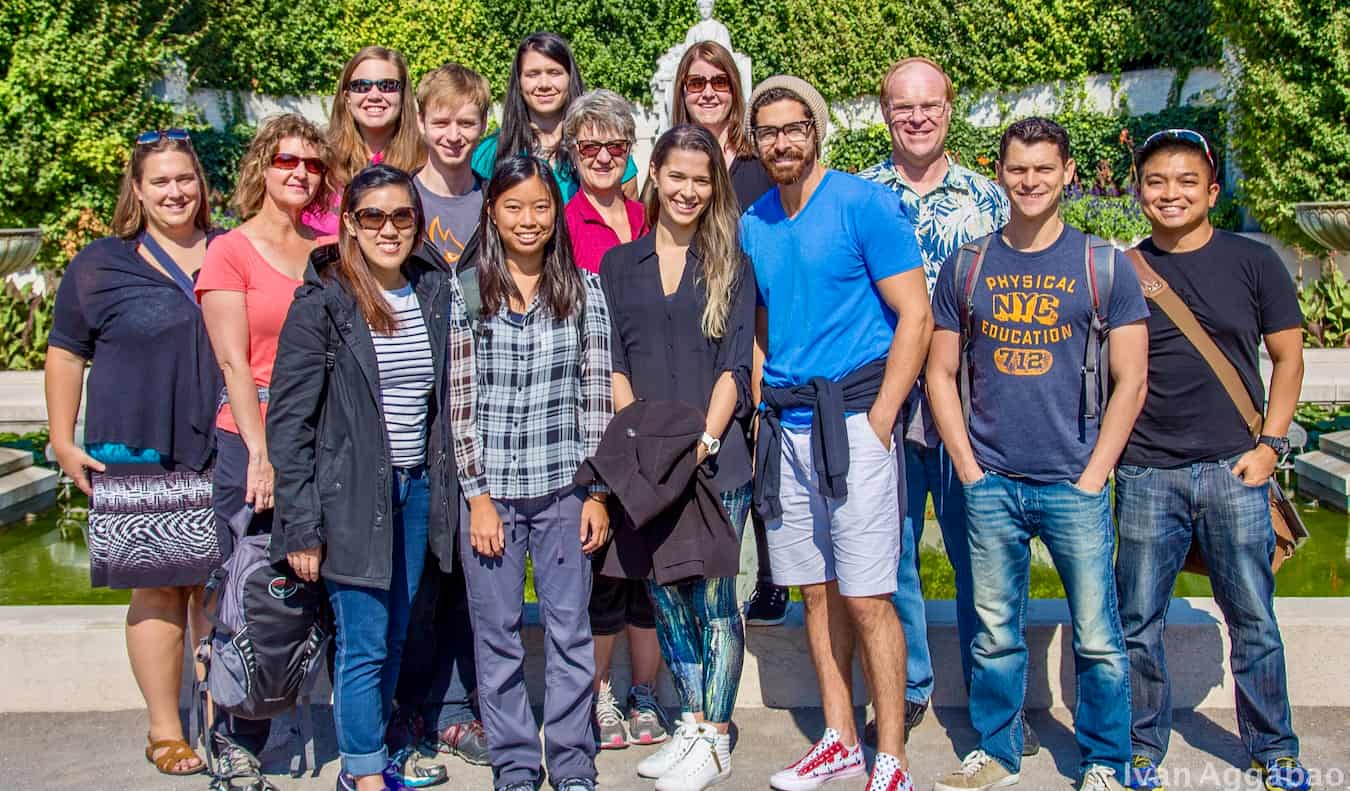 Posted: 9/20/22 | September 20th, 2022
The first time I traveled by myself, I went on an organized tour. I was in my early twenties and didn't know the first thing about travel and I was a bit too afraid to go on my own. So, I booked a tour so that I could travel with other people and have a guide to lean on and help me adjust.
It was exactly what I needed. After that, I was hooked on travel.
Now, even though I am an "expert," I still go on tours because they are super fun, a great way to meet people, an educational way to learn from an informed guide, and they allow you to go to places you normally can't go alone. They give you time to adjust to the destination and, if you're new to travel, to the "travel lifestyle" itself.
Over the past few months, we've been running tours again as part of The Nomadic Network, our community events platform.
So far, we've traveled through Western Europe, Romania, Jordan, and Oaxaca, Mexico! (In fact, I'll be returning to Oaxaca in two weeks for our second tour.)
Today, we're announcing all our 2023 offerings (which include a bunch of new destinations too!).
TNN Tours are for people who want to travel — not just vacation — with other members of this community. They are for those who want to meet locals who will show you what it's like to live in each destination, and for travelers who want to learn from experts about the cuisine, culture, and history of the places you're visiting.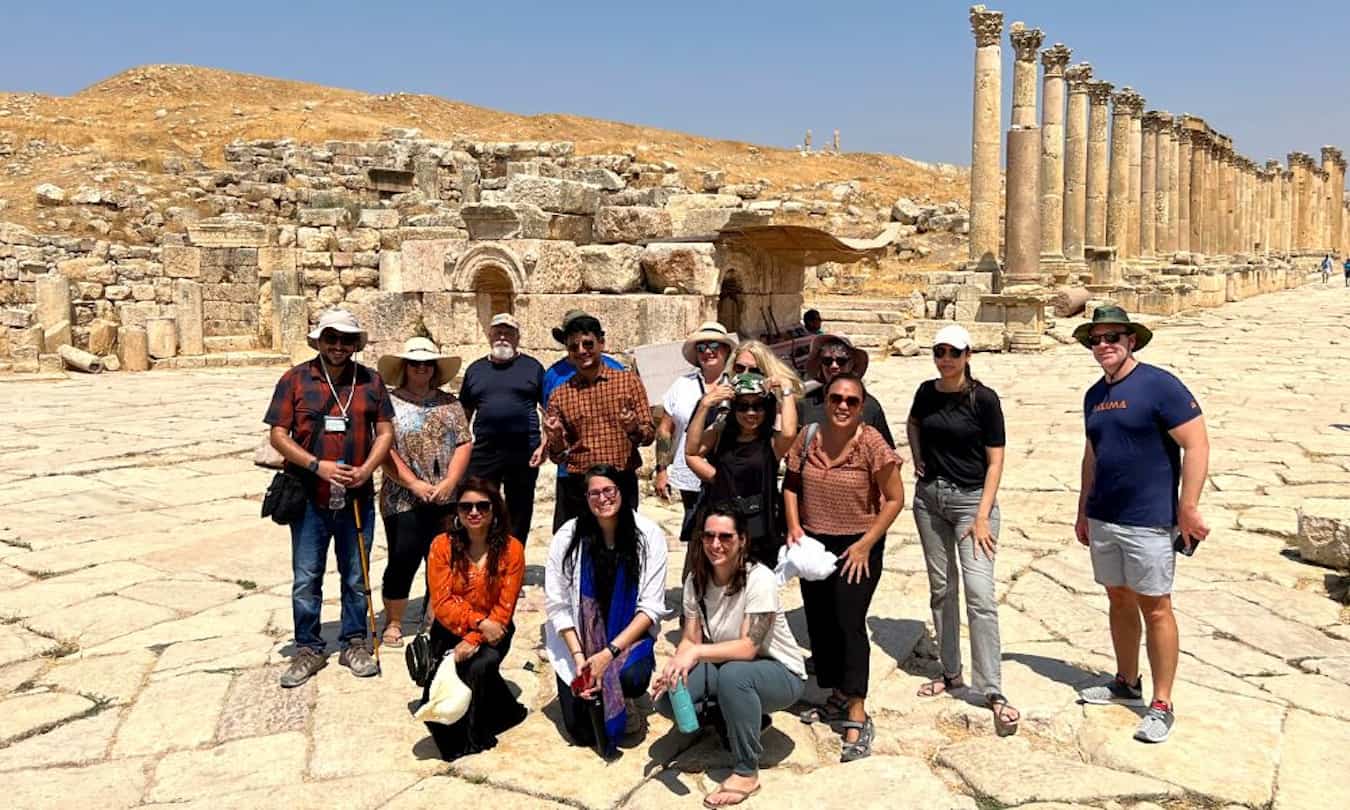 You'll get to do bucket-list-worthy activities, have meals in residents' homes, and see hidden, out-of-the-way spots not normally found on other group tours. On these tours, we mean to get you beyond the tourist traps.
For example, in Oaxaca, we visit palenques (mezcal farms) run by local friends that no other groups visit. In Mexico City, a longtime foodie resident takes us around on a culinary excursion.
In Romania, we get special permission to visit a Roma village.
In Morocco, we go into the mountains and stay with a Berber family.
In Italy and France, we dine at hidden restaurants I've discovered over the years where the menu is whatever the chef found at the market that day.
In Costa Rica, we do a homestay where you get to practice Spanish and eat with a family we know.
These itineraries are made using our connections to give you a deeper sense of the place and an understanding of the local culture. We don't shuffle you from site to site. These tours are about connection! For that reason, all our tours have a maximum of 15 people too as we believe small groups foster better friendships and engender better experiences.
Check out where we are going (and when) below:
Oaxaca, Mexico
Oaxaca is one of the gastronomic centers of Mexico and ground zero for most of the world's mezcal production. On this trip, we'll visit palenques to learn how mezcal is made, hike mountains, marvel at waterfalls and ancient ruins, and eat our way through the city's astounding culinary scene. We'll get to meet chefs, mezcaleros, and locals in a way no other tour can offer.
Departures:
Mexico City
If you ask me, Mexico City is one of the best cities in the world. We're excited to take you around to learn about its art, history, and street food scene. We'll go on culinary and market tours, take day trips to the famed Aztec ruins of Teotihuacán, and explore the city's art and museums. We'll be guided around by locals that live there and visit hole-in-the-wall bars and taco joints.
Departures:
Yucatán, Mexico
This itinerary will take you away from the tourist centers of Tulum and Playa del Carmen into the real Yucatán. We'll explore the food and cocktail scene in Mérida, visit lesser-known Mayan ruins, wander through tiny towns, and swim in cenotes (swimming holes) devoid of the influencers you see on Instagram. This route really highlights one of the most interesting and culturally rich areas of Mexico.
Departures:
Turkey
On this trip, we'll explore the wonders of Istanbul; visit the beautiful mountains of Cappadocia, where we can take one of the famed balloon rides; wander the ancient Roman site of Ephesus; eat home-cooked meals in the home of our friends; and enjoy the beaches of Izmir. It's a culturally-rich itinerary where you'll learn all about one of the oldest countries in the world.
Departures:
Morocco
Morocco is an enthralling place — full of delicious food; rich, deep culture; beautiful historical ruins; wonderful smells; and maze-like medinas. From the high Atlas Mountains to the tranquil desert to the wind-swept coast, it's a country that mesmerizes travelers. This tour will go places others don't go, as we wander with local guides, visit Berbers, and head into the mountains and desert for postcard-perfect experiences surrounded by stunning landscapes.
Departures:
Romania
Romania is still relatively undiscovered compared to other countries in Europe. It is a budget-friendly destination brimming with hearty food, impressive medieval architecture, amazing natural landscapes, and incredible people. On this tour, we'll get to its heart as we dine in residents' homes, visit the countryside, look for bears, and learn about Roma culture.
Departures:
Tuscany, Italy
Tuscany is the land of food, wine, and picturesque towns. It may be one of the most visited regions in Italy, but that doesn't mean there aren't places to discover away from the crowds. As we meander around the region, we'll meet sommeliers, cooks, and historians who will teach us about wine, food, and art and give us an insider's view of Tuscany's rich history and culture.
Departures:
Paris & the Loire Valley, France
This tour will take you around Paris and then into the Loire Valley, my favorite wine region of France. Over the course of the week, we'll learn about how Paris became what it is today, eat at some out-of-the-way brasseries, and picnic on the Seine before we head to the Loire to learn about the history and complexity of French wine and visit the ancient châteaux of the old nobility.
Departures:
Central Europe
We'll start in Prague — home to incredible food, fabulous wine, ancient ruins, and picturesque vistas — before heading to Budapest, where we will eat, drink, and learn about its history (we'll also visit the infamous ruin bars for a fun night out). Along the way, we'll drink coffee in Vienna, sail on the Danube, and bike around wine regions. If you're looking for variety, this is the tour for you!
Departures:
Jordan
This itinerary is packed with traditional experiences and local interactions, making it ideal for any traveler who wishes to truly explore the fascinating history, delicious food, hospitable culture, and iconic landscapes of Jordan — including a visit to the centuries-old Wonder of the World Petra. We'll eat with nomadic Berbers, sleep in the desert, and swim in and lounge on the shores of the Dead Sea.
Departures:
Costa Rica
Costa Rica was the first country I traveled to, and it is where I fell in love with travel. On this trip, we'll explore jungles, rainforests, and beaches, and do a homestay with a Costa Rican family. You'll learn about the nation's varied environments, spot wildlife, and do lots of adventure activities as we explore one of the most beautiful countries in the world. If you want an active tour, this one is for you!
Departures:
***
Our tours show you a more "nomadic" way of seeing places. We stick to local transportation, non-touristy bars and restaurants I've found over the years, and focus more on people and experiences rather than sights. Anyone can take you to the David but we want to take you there with an art historian and then follow it up with a restaurant run by friends I know and places I love.
We want you to walk away with a sense of place — not just photos of you in front of buildings.
Additionally, most of the tours will have me or a team member on them. These tours are about community, after all, so we want to make sure we get to meet you all and spend some time traveling together (we don't want to miss out on these awesome itineraries either).
I've put over fifteen years of experience into creating these itineraries. They're everything I wish I had when I started traveling. Whether you're a newbie or a travel veteran, I hope you'll join us!
So far, we've sold out every tour we've done so be sure to join before we sell out!
FREQUENTLY ASKED QUESTIONS
While each tour has its own FAQ, here are some general questions:
What are your COVID policies?
This tour is currently open to all travelers. We will closely monitor any new policies and comply with any new restrictions or requirements needed. If the rules change, we'll let you know. Visit each tour page for specifics.
What about COVID testing?
Should COVID testing be required as a condition of entry or exit, we will help you find testing locations, though you are responsible for the cost of the COVID test and for booking your own tests.
What is the age range of people on this tour?
Our tours see people from 22 to 75. They really run the gambit. In the past, the average age on tours is about 40. As we've found age is only a number, the variety in ages has never been detrimental to the group dynamics!
Is there a lot of walking?
All our tours have lots of walking tours involved that last between 2-3 hours each. Some tours have more difficult hiking. Check each tour page for more detail.
Tell me about your guides.
Our expert tour leaders are fully licensed guides. They'll be responsible for ensuring the smooth operation of the trip, handling all of the local logistics, and dealing with any unforeseen situations that may arise. Our tour leaders are always on hand, every day of the trip, to provide additional information, create spontaneous activities, join the group for non-included activities and meals, and ensure that the trip is as memorable, fun, and informative as possible. During the course of the trip, we'll also use other guides for some of our day tours.
Will I have any time to myself?
Of course! We hate tours that book every minute of your day. While we will be busy, there will also be plenty of time for you to explore on your own. Travel is about adventure and discovery, so we emphasize that on our tours. We want you to see stuff that interests you specifically.
What am I going to do during the listed "free time"?
Our guides will be on hand to give you suggestions, help you decide what to do, and be around. If you want to go off on your own, we get that. We want you to explore and break out of your comfort zone! Our guides are here to help and, after you join the tour, you'll be sent a list of potential activities you can do on your own.
How many spots can I purchase at once?
Reservations on the tour are limited to a maximum of two per person to ensure that everyone who wants to gets a chance to go.
What kind of rooms are we staying in?
We will be staying in 2 star or better hotels.
Is airfare provided?
No, you'll be responsible for your own airfare to and from the tour.
Will I need travel insurance?
Yes, all guests will be required to have travel insurance for the duration of the trip. We'll be asking for proof before departure. If you don't have it, you won't be able to continue on the tour.
Is there an age requirement?
You must be at least 18 years old.
Will I need to fill out any release forms?
Yes, you'll be required to fill out and sign a liability waiver releasing us from any and all liability related to the tour.
What about visas?
If you require a visa to enter any of these destinations, you'll need to get that in advance at your own expense. We do not offer any help in this area.
What if I change my mind? What is your refund policy?
We understand plans change. Deposits are refundable up to 30 days after purchase. They can also be transferred once in a calendar year to another tour. (You have to do so within 90 days.) Balance payments are due 31 days after purchase. Cancelations made between 90 – 60 days before the tour start date: 50% refund of the balance amount (the deposit is not included in the refund). Cancelations made between 59 – 0 days before the tour start date: 0% refund of the balance amount.
Is there a waiting list?
People sometimes rush to secure a spot but don't always get the time off work and might need to cancel. If you'd like to be added to a waiting list, please email us at info@thenomadicnetwork.com.
I still have questions. Can I contact you?
Of course! Our email is info@thenomadicnetwork.com
Again click here to see all our tour offerings!
Book Your Trip: Logistical Tips and Tricks
Book Your Flight
Find a cheap flight by using Skyscanner. It's my favorite search engine because it searches websites and airlines around the globe so you always know no stone is left unturned.
Book Your Accommodation
You can book your hostel with Hostelworld. If you want to stay somewhere other than a hostel, use Booking.com as they consistently return the cheapest rates for guesthouses and hotels.
Don't Forget Travel Insurance
Travel insurance will protect you against illness, injury, theft, and cancellations. It's comprehensive protection in case anything goes wrong. I never go on a trip without it as I've had to use it many times in the past. My favorite companies that offer the best service and value are:
Ready to Book Your Trip?
Check out my resource page for the best companies to use when you travel. I list all the ones I use when I travel. They are the best in class and you can't go wrong using them on your trip.
The post Announcing Our 2023 Group Tours! appeared first on Nomadic Matt's Travel Site.