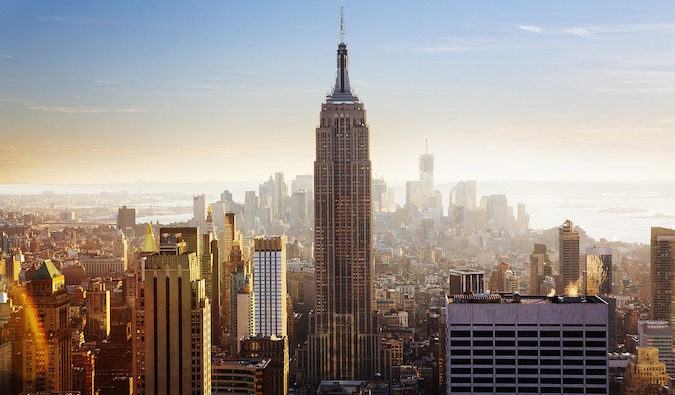 Updated: 05/18/2019 | May 18th, 2019
New York City has been my home for close to three years, though I've been coming to the city since I was 16.
(Little known nerd fact: My parents took my friend Matt and me to NYC because we won a free trip for placing first (me) and second (him) in the Massachusetts state championship of the card game Magic: The Gathering. Yes, you read that correctly!)
As you probably know, NYC is one of the best foodie cities in the world — you can find cuisines from every ethnicity here. And from dollar pizza slices to expensive $400 USD meals at Per Se, it also has food to cover all price ranges.
Because of the variety and quality of food here, I rarely cook at home (kitchens are small and there's better food everywhere!), and so, over the years, I've developed a robust list of recommended restaurants that I want to share with you now.
My 25 Favorite Restaurants in NYC

1. Corner Bistro (331 W. 4th Street)
World-famous for its thick and greasy hamburgers, I think this is one of the best burger joints in the city. This tiny, dimly lit bar is definitely not the restaurant you would expect to find such mouthwatering food. I bet they haven't cleaned the grill in ages, which makes the burgers have such an amazing taste. I'm sure the drinks here are good too but I only ever come for the burger.
2. The Fat Radish (17 Orchard Street)
With some of the best farm-to-table, organic food in the entire city, the menu here changes based on seasonality, offers lots of vegetarian options, and will leave you full and feeling healthy.
3. Hot Kitchen (104 Second Avenue)
Delicious, fiery Szechuan food at a great price. This isn't the place to get General Tso's. It's the real deal. Try the tripe (pig's intestine) – it's delicious! Be warned though: the food here is really spicy! Since I'm a wimp when it comes to spicy food, my stomach still suffers the day after I eat there, but if you love fiery food (or are willing to suffer the consequences), don't miss this place.
4. Jeffrey's Grocery (172 Waverly Place)
Located in the West Village, this is not a cheap meal (most mains are $20 USD), but they pour heavy, heavy glasses of wine and have some of my favorite oysters and seafood in the city. They also host a $1 USD oyster happy hour on their entire selection (4–6pm during the week), which I think is the best deal in the city!
5. Miss Korea BBQ (10 W. 32nd Street)
This is my favorite Korean BBQ restaurant in the city. Granted, I'm not a Korean BBQ expert, but the meat here is delicious, and they give you a TON of sides of a dizzying variety (which to me is the best part of Korean BBQ. Bring on the unlimited kimchi!). The fact that it's usually full of Koreans is something I take as a good sign.
6. SriPraPhai Thai Restaurant (64-13 39th Avenue, Flushing, Queens)
The best and most authentic Thai restaurant in New York. As someone who has lived in Thailand, I rarely find a place I like. It's never as good. I hardly ever get Thai food because I'm always disappointed but this place is the real thing. It's as close to getting to eating in Thailand as you can get. I especially like the som tam (papaya salad) here. It's legit.
7. Tomoe Sushi (172 Thompson Street)
This tiny restaurant serves big cuts of fish on perfectly warmed rice. Their toro(fatty tuna) is outstanding. Tomoe is considered one of the best sushi bars in the city and gets packed quickly, so come early or for lunch. Prices here aren't on the cheap side, but their $18 USD lunch set offers the best value.
8. Yuba (105 E. 9th Street)
My favorite sushi bar in the city, this little restaurant is easily missed. I visit here too often — so often they gave me cake on my birthday and call me up when they have hard-to-get or especially fresh fish. I take all my friends here. It's consistently the best sushi I've found for the best price. Try the lemon roll (you have to ask for it, it's not on the menu), the toro, and the uni. Tell Jack and Nina that I sent you.
9. Russ & Daughters (179 E. Houston Street)
This is the best breakfast and brunch joint in the city, hands down. Nothing even comes close. Come here for latkes, lox plates, world-class cream cheese, and anything else breakfast/deli like you can think of. There are two sections: the restaurant and the deli. The restaurant always has a long, long wait, so if you don't get there early, it's better to grab from the deli around the corner and eat elsewhere.
10. Left Bank (117 Perry Street)
Located in the West Village, this French restaurant offers a wonderful $20 USD Sunday prix fixe dinner that is one of the best budget meals in the city. You get two courses and wine in a romantically lit setting. My roommates and I also come here often, especially if we want a nice quiet bonding evening!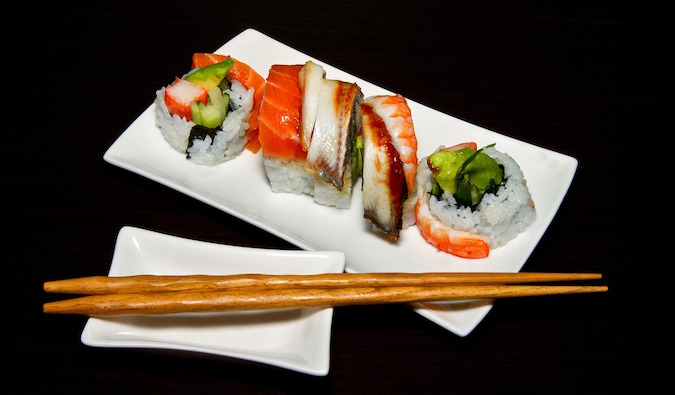 11. Sao Mai (203 1st Ave)
A great Vietnamese place located near my apartment, this place serves pho that rocks my world. The portions are huge here and, according to my friend Jodi, who is an expert in all food Vietnamese, this place is authentic.
12. S'MAC (345 E 12th St) 
A mac-and-cheese shop that takes the traditional dish and makes it even better. It's heavenly, cheesy goodness. Their 4-Cheese and Cheeseburger are my two favorites. The fact that this place is around the block from my house has become a problem, though — I'm eating there too often and may be getting a S'MAC belly!
13. Masala Times (194 Bleecker St)
I was only recently turned on to this place near the NYU campus. Serving Bombay-style street food, this place serves some really good Indian meals. I couldn't get enough of it. The plates are sharable, and you get rice and bread, too. Try the Fish Tikka — it's delicious.
14. Vanessa's Dumpling (220 E 14th St)
I stumbled upon this place in the East Village while walking home one day; it was only later that I found out it's actually quite famous. After eating their dumplings, it's easy to see why. They were delicious — the pork dumplings had an intense flavor to them. And at 10 for $2, the price is just right.
15. Prosperity Dumplings (46 Eldridge St)
Located in Chinatown, this is another amazing dumpling place. The pork dumplings come fried or steamed, and there's a nearby park where you can sit if this tiny place is full. And if you want more for later? You can buy 50 frozen dumplings for $8!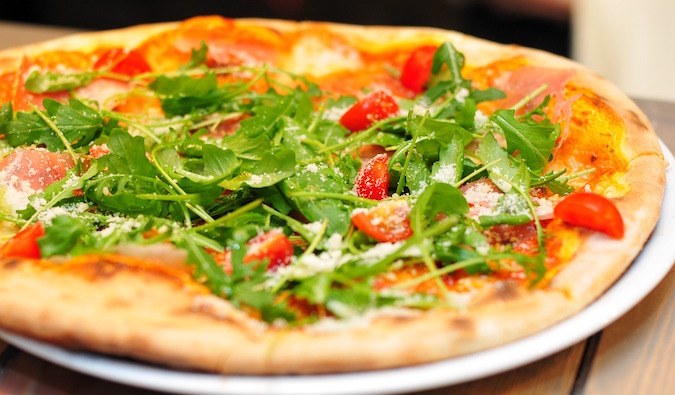 16. John's on Bleecker (278 Bleecker St)
Pizza in New York is an institution, and I admit I'm no pizza guru. To me, it's either bad, good or really good. I can't make those fine pizza distinctions like some New Yorkers can. I qualify John's as really good. The thin-style pizza comes in huge portions big enough to serve three. Service is quick, but expect to wait for a table during dinner.
17. Chelsea Market (75 9th Ave)
Chelsea Market is more a collection of food places than a single restaurant. It's extremely popular and a great place to pop into when you need some groceries, a meal, or snacks. You'll find good Thai food here, and Amy's Bread has amazing bread. The Lobster Place has decent sushi (and great lobster), but I really enjoy their clam chowder. If you want a meal with local and organic food, try the Green Table.
18. Rosemary's (18 Greenwich Ave)
This West Village Italian restaurant boasts a rooftop farm with fresh produce and herbs that goes directly into the food you eat. Their handmade pastas are a must-eat and they have a good Rosé selection. It's one of the best weekend brunch locations in the city too. Come early because it fills up really quickly, especially on nice warm day.
19. Bennie's Thai Café (88 Fulton St)
As someone who has lived in Thailand, I'm quite picky about my Thai, but this restaurant is legit. It's a popular lunch spot with the working crowd and serves incredible curry. It's one of the few locations where I can get an authentic Thai iced tea too! Service is a little too fast and abrupt, but who cares? The food is incredible.
20. Mamoun's Falafel (119 MacDougal St)
You will find inexpensive falafel and gyro stands all over Manhattan, but the best one is Mamoun's. You can pick up a classic falafel with tahini and salad for less than $5, but all the options here are tasty and affordable.
21. Karasu (166 Delkab Ave)
This is often considered a restaurant and cocktail bar, but it's more of an izakaya speakeasy (you'll need to enter through a secret door). It has an elegant ambiance and the drinks are top-notch. The menu isn't huge, but everything is delicious.
22. Peter Luger Steakhouse (255 Northern Blvd)
Located in Williamsburg, this is the best steakhouse in the city. It's an institution in the city. The restaurant has a German beer hall feel and the steak (which they age in-house) is some of the best I've had in my life.
23. Eat's Khao Man Gai ( 518 E 6th St)
This is a tiny restaurant with a limited menu, but the food here is absolutely delicious. Their Thai-style Hainanese chicken and rice is simple but tasty.
24. Friend of a Farmer (77 Irving Pl)
Since 1986, Friend of a Farmer has been embracing the farm-to-table movement, offering seasonal dishes as well as classic comfort food. The food is filling and hearty. They have a great brunch too!
25. Pete's Tavern (129 E 18th St)
This vintage bar has been open since 1864. It's an unpretentious place where you can enjoy some pub food and enjoy that classic tavern atmosphere.
***
After living in the city for years, this list reflects what I think are some of the best and most unique offerings the Big Apple has to offer.
But this is just the tip of the iceberg too. New York City has some of the greatest bars and restaurants in the world and you could spend a lifetime (and a fortune) trying them all.
But don't take my word for it. Come and put my suggestions to the test and let me know what you think!
NEXT STEP —> Get My Guide and See More of NYC for Less!
See New York City the way it's meant to be seen.
You'll get off the beaten path, away from crowds, and see the local side of New York City visiting my favorite sights, restaurants, bars, and attractions!
Book Your Trip to NYC: Logistical Tips and Tricks
Get Your Guide
Check out my detailed guide to planning a visit to NYC with suggested itineraries, places to stay, things to do, where to eat, and how to get around. Just click here to get the guide and continue planning today!
Book Your Flight
Find a cheap flight by using Skyscanner or Momondo. They are my two favorite search engines because they search websites and airlines around the globe so you always know no stone is left unturned.
Book Your Accommodation
You can book your hostel with Hostelworld. If you want to stay elsewhere, use Booking.com as they consistently return the cheapest rates for guesthouses and cheap hotels. I use them all the time. My favorite places to stay in the city are:
Q4 (Queens) – This is a recently-renovated hotel/hostel property with basic rooms, comfy beds, and the common room has a pool table and table tennis. There's a small kitchen for cooking too. It's a great launching pad to explore one of the best food neighborhoods in town!
Broadway Hotel and Hostel (Upper West Side) – This hotel/hostel is close to Central Park and is a nice place to just hang out. They screen movies, have a library, a lounge, and a kitchen as well. If you're looking for a comfortable place in a more relaxed environment, this is one of the better hostels in town.
NY Moore Hostel (East Williamsburg) – Located in the trendy neighborhood of East Williamsburg, this hostel is covered in artwork and graffiti, which makes it super quirky and beautiful. The beds are average, but it's a cozy hostel to stay at and they have free parking too!
Don't Forget Travel Insurance
Travel insurance will protect you against illness, injury, theft, and cancellations. It's comprehensive protection in case anything goes wrong. I never go on a trip without it as I've had to use it many times in the past. I've been using World Nomads for ten years. My favorite companies that offer the best service and value are:
Looking for the best companies to save money with?
Check out my resource page for the best companies to use when you travel! I list all the ones I use to save money when I travel – and I think will help you too!
Photo credits: 2, 3, 4, 6, 9, 13
3, 5, 6, 7, 10, 12, 14
The post 25 Delicious Places to Eat in NYC (A list of My Favorites) appeared first on Nomadic Matt's Travel Site.